Remember to read dangerously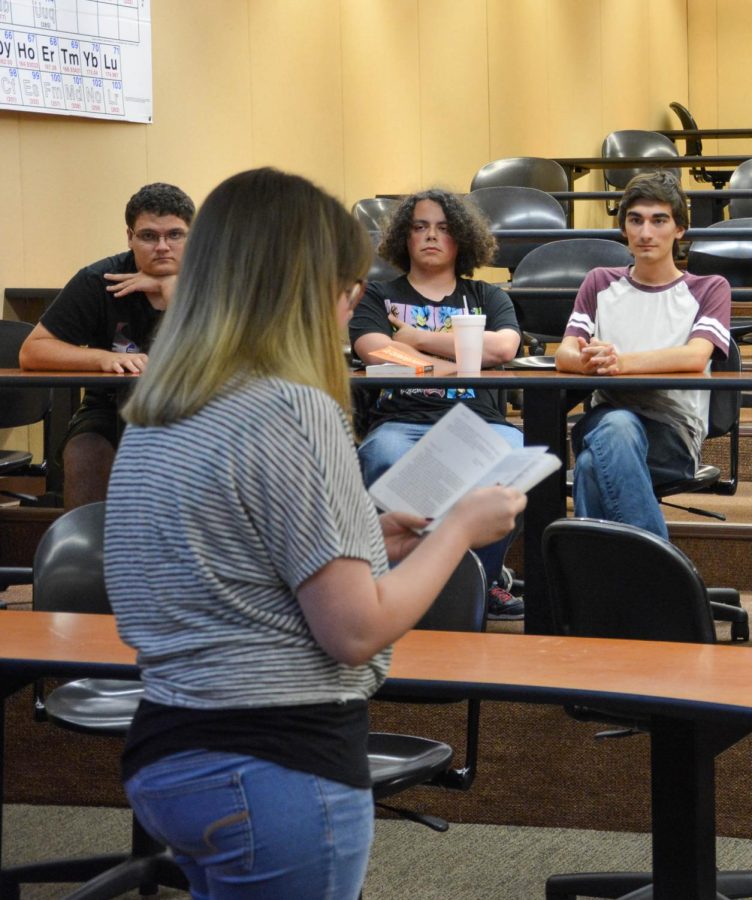 A book's one desire is to be read, but because of school rules or government issues, many books have been banned from being held in public schools or libraries. Sigma Tau Delta brought banned books back to life by holding a banned book reading this past Wednesday on campus.
The English honor society presented a platform at this event for people to get up and read their favorite books that have been historically banned in America and around the world due to their content. It is a subtle reminder of those who struggled and fought for our freedom of expression in the past.
In this reading, there were six works shared- "To Kill a Mocking Bird" by Harper Lee, "Beloved" by Toni Morrison, "1984" by George Orwell, "Perks of Being a Wallflower" by Stephen Chbosky, "Scary Stories to Tell in the Dark" by Alvin Schwartz and finally "Brave New World" by Aldous Huxley.
Each of these books have been banned at some point throughout history. From full bans by a government to smaller scale bans in schools or libraries, the reasons range from government critiques like "1984" and "Brave New World" to sexual and suicidal content like "Perks of Being a Wallflower."
Adam Blackburn, a senior English and history major, read Brave New World.
"['Brave New World'] says a lot about society today. The different ways in which he uses these symbols, the different classes and the work they can do and the suppression of ideas to produce 'happiness' is very germane to what we have today," said Blackburn, the president of Sigma Tau Delta.
Censorship of literature is still an important issue of debate in 2019 just like it was in the 1960s in America. Censorship of literature is one of the reasons this event is held for students.
"Books really are one of the few expressions we have to experience new ideas. It is our responsibility as students and people to experience as many things as we can," Blackburn said.
This event is part of a national Banned Books Week that happens every September. It is an annual event to celebrate the freedom to read. The reason these banned book readings are held around the country is to remind both the readers and listeners to play gracefully with ideas. Every time one of these books is read, the dream that was its reason to be written lives on.