ULM continues homestand against Memphis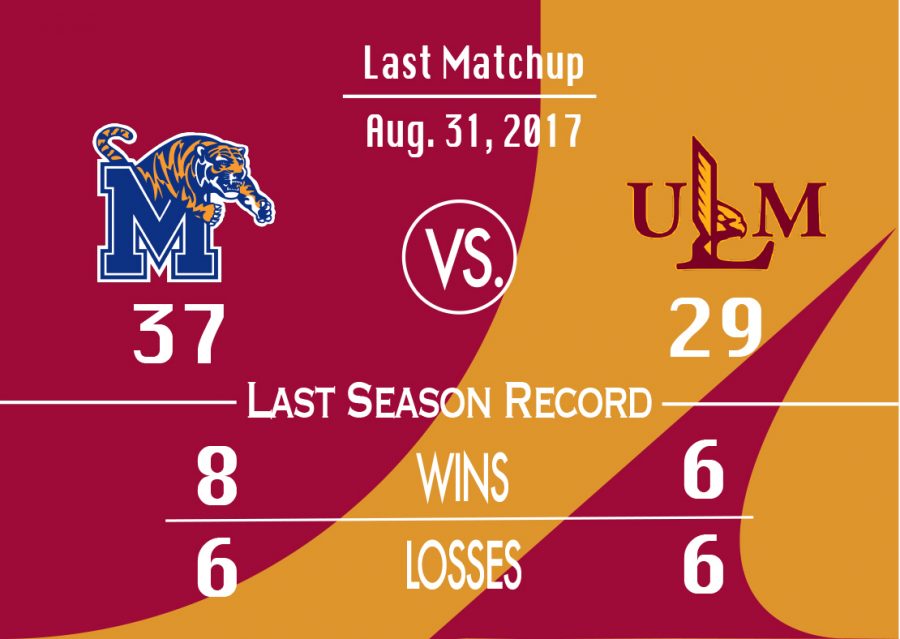 Next week, the Warhawks take on the Memphis Tigers in Malone Stadium.
The Tigers are from the ACC West conference and are undefeated so far.
ULM has played Memphis three times in the past, only winning once in 1979, 21-20. Last year, the Warhawks lost a high scoring game, 37-29.
To stop the Tigers, ULM must stop quarterback Brady White. White on the year has 914 passing yards and eight touchdowns to only two interceptions. White is the catalyst for the team's success in not turning the ball over.
The Warhawks will need to force White into bad throws. A good way to do so is to get pressure on White, which has been an issue for the Warhawks all season. If ULM can get after White, then they will stand a good chance at winning the ball game.
Offensively, Memphis is not a one-man-band, as freshman running Kennith Gainwell has helped keep the Tigers balanced. On the season, Gainwell has 411 yards on just 62 carries, giving him a robust 6.6 yards per carry. Gainwell has also chipped in four touchdowns on the ground.
Gainwell has also been a consistent recipient of White's passes with 14 catches for 97 yards and a touchdown through the air as well.
The Warhawks must avoid throwing at cornerback Sanchez Blake Jr. Blake has one of the Tigers' three interceptions. Blake is also leading the team with 23 tackles. The best course of action for ULM is to run to the other side of the formation away from Blake.
The Warhawks must hand the ball off to Josh Johnson. Johnson has been the Warhawks' most consistent playmaker. Johnson has nearly 500 yards through four games. After another near 100 yard performance against South Alabama, Johnson needs to be the workhorse.
ULM has had a stunning turnaround in the turnover department this year. Each game the Warhawks have forced a turnover and gotten the offense more possessions. Against Memphis, the defense needs to continue their play. Corey Straughter should be the player to look at, as Straughter already has three interceptions on the year.
The most important thing for ULM is getting the crowd involved. Memphis is a good team, but they have not lost for a reason. If the Warhawks can come out hot and score early, the crowd can get involved. Scoring early and putting pressure on a good Memphis team will be paramount to a ULM victory.
The Warhawks have a chance to upset the Tigers on Military Appreciation Day and these are the ways how.