ULM heads to Boone to play Appalachain State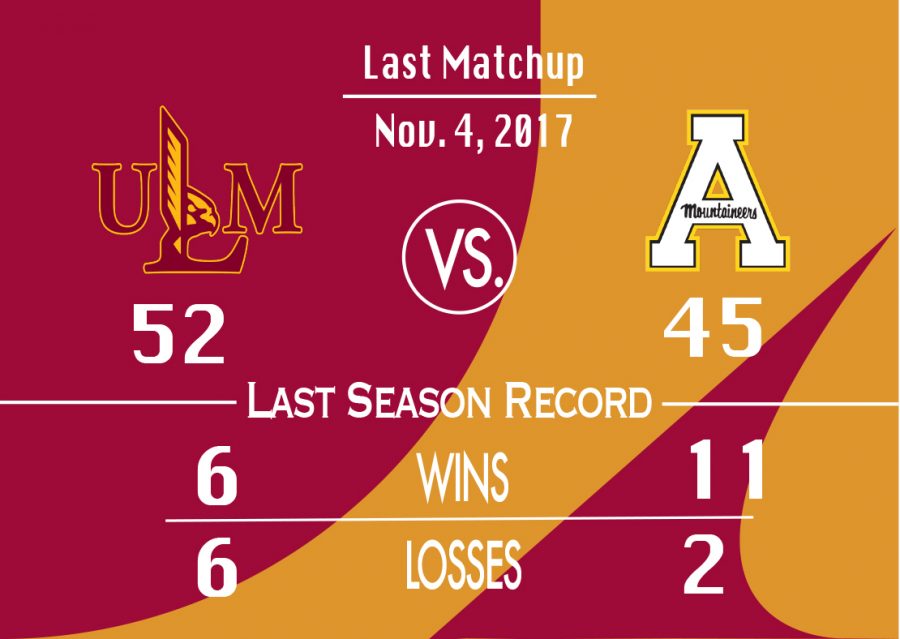 For conference games, Appalachian State will be the hardest for the Warhawks all season.
The Mountaineers have won the last three Sun Belt conference championships and has started the season hot at 5-0.
As a team, App State is an old school team. Defense and the running game are how the Mountaineers win games.
Through five games, the Mountaineers have nearly 1,100 yards rushing and over 218 yards per game.
Senior Darrynton Evans leads the rushing attack, with 540 yards on the season and over 100 per game. Evans also has a nose for the end zone with nine rushing touchdowns through five games.
The Mountaineers match up well with ULM. ULM's rushing defense has been underwhelming giving up nearly 230 yards on the ground every game.
Simply put to win the game the Warhawks have to stop the run. If ULM cannot stop the run, it is going to be a long day against App State.
Although the Mountaineers are not a major passing team, quarterback Zac Thomas is a threat through the air as he has nearly 1,000 yards and seven touchdowns.
The Warhawks must make Thomas uncomfortable, he's completed 70 percent of his passes to begin the season, ULM must bring that down to get him out of rhythm.
Defensively, the Mountaineers have not been as dominant as in past years but after a dominant performance against University of Louisiana Lafayette, the Warhawks have to be prepared.
The Ragin' Cajuns only had 250 yards of total offense. ULM has to create offense. Look for the Warhawks to use quarterback Caleb Evans' dual threat ability.
Evans, the Johnny Unitas Golden Arm finalist, has over 1,700 yards of offense and 15 total touchdowns to start the year. ULM will use him in a variety of ways to move the ball.
Similar to the Mountaineers, ULM averages over 215 rushing yards a game. If Evans and breakout running Josh Johnson can run the ball, the day will be much easier for a passing offense that has struggled at times.
For the Warhawks' linebackers Cortez Sisco Jr. and Chase Day must have a big day. App State will run the football over and over again so the two seniors must make sure they are prepared to make tackles.
A win for the Warhawks would get the magic number to two, as ULM would only need two more wins to become bowl eligible. The win would also give the Warhawks a commanding lead in the West division of the conference.