Team looks ahead to Arkansas State after bye week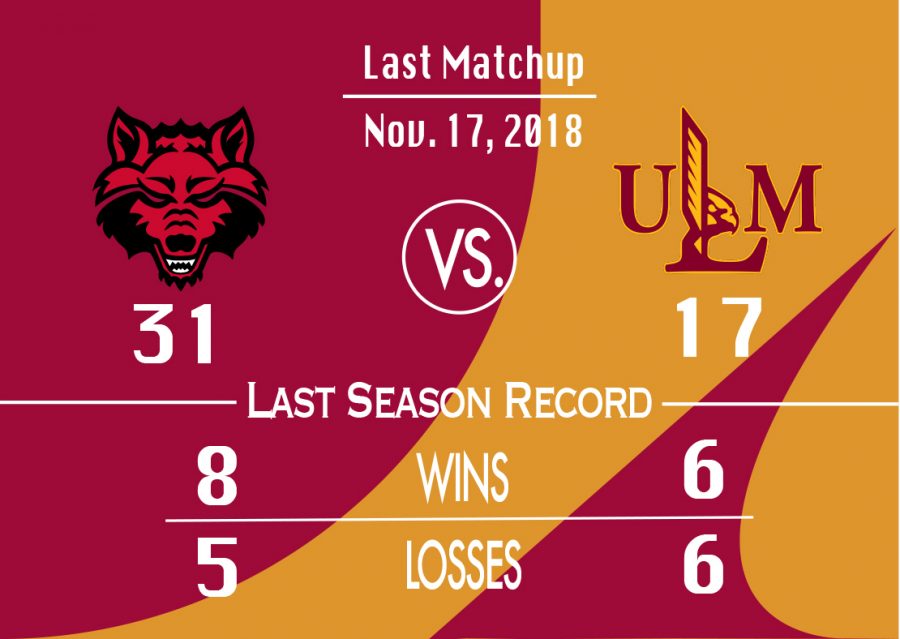 The goal from ULM to begin the season was to make a bowl game. In college football the way to become bowl eligible is by winning at least six games.
After a blowout loss to conference leader Appalachian State, the Warhawks will need to finish the season strong. At 3-4, ULM has five opportunities to win three games.
After the bye week, the Warhawks return home to play their homecoming game against Arkansas State on Nov. 2.
The Red Wolves have had an up-and-down season, blowing out teams like UNLV but getting blown out by Georgia and ULL.
The Warhawks must figure out a way to win this ball game to keep their bowl hopes alive.
Stopping the Red Wolves means stopping their offense.
Through seven games Arkansas State has averaged nearly 32 points and nearly 450 yards of total offense, including over 300 per game passing.
Arkansas State has had success passing regardless of quarterback as both Logan Booner and Layne Hatcher have had a successful campaign.
The Warhawks, though, would prefer for Hatcher to start as he has been turnover happy, throwing six interceptions in only 106 attempts. Booner on the other hand has only thrown one on 153 attempts.
ULM's secondary should be able to force an interception as multiple Warhawks have had success thus far this season.
Offensively, the Warhawks have to find production in the passing game since wide receiver Xavier Brown has left the team and wide receiver Brandius Batiste has seemingly been put into the dog house after a slow start and an ankle injury.
Getting the passing game going will also allow for both quarterback Caleb Evans and running Josh Johnson get room to run the football.
The Warhawks will get an opportunity to show their offensive firepower against a porous Arkansas State defense.
Through seven games, the Red Wolves have given up 38 points per game as well as nearly 230 yards rushing and 300 yards passing.
To have success offensively, ULM must stop defensive end William Bradley-King who has six sacks. The Warhawks must allow Caleb Evans time in the pocket to make throws and for him to extend plays.
Beyond just bowl implications, ULM needs to beat Arkansas State to boost the team's confidence.
The Warhawks cannot allow the loss to Appalachian State define the season as a whole.