ULM downed in mountains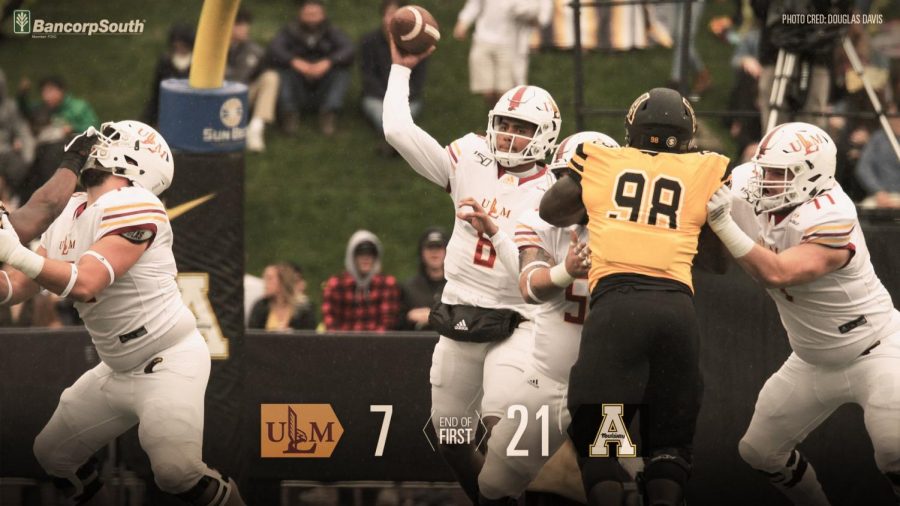 Twelve plays, 82 yards and three minutes and 51 seconds later the Warhawks lead seven to zero on the road against number 24 Appalachian State.
Little did ULM know this would be not just their last lead but their last points in the game.
The Mountaineers beat the Warhawks 52-7 in a game that seemed to be over in the first half.
"We weren't ready to play and that's my fault," ULM head coach Matt Viator said. "We just got beat in every phase and I didn't do a good enough job getting them ready."
Often times the stats do not tell the full story but against the App State the stats say it all.
The Warhawks had 213 yards of total offense, Appalachian State had 572 with 302 coming by running the ball.
ULM had three turnovers, the Mountaineers had two. The Warhawks had nine penalties for 66 yards, Appalachian State had five for 34.
Like Viator said, the Warhawks were not successful at any point in the game.
After a good first drive going 4-6 for 61 yards, quarterback Caleb Evans 3-13 for 14 yards with an interception. Even with a poor day, Evans became just the third ULM quarterback to pass for 8,000 yards in a career.
"As much as this one hurts, we have to put it behind us and hopefully we can take care of our side of the conference and see these guys again," Evans said.
ULM will have that chance when they return to JPS Field at Malone Stadium on Nov. 2 against Arkansas State following a bye week.
After the successful first drive, the Mountaineers had a quick three-play, 75 yard drive that ended with a 59-yard touchdown by Darrynton Evans.
A Warhawk punt followed by another App State touchdown dug a hole for ULM.
The Warhawks though began to drive, gaining 20 yards in just four plays before a fumble by Josh Johnson gave the ball back to App State.
"Josh actually made a good run on that play and unfortunately lost it," Viator said. "We just never got anything going offensively. Credit Appalachian State for some of that, but we have to regroup and get back to work."
ULM again could not stop App State going down 21-7 in the first quarter. ULM could not get on the board again going down 31-7.
The Warhawks all but gave up the game after App State came out and went on a 12 play, 75-yard drive ending in another touchdown.
One more three and out from the starting offense was enough for Viator to decide to sit down Evans and Johnson for the rest of the game, allowing redshirt freshman quarterback Colby Suits to get in the game.
Suits like the rest of the Warhawks did very little.