Kitty DeGree Foundation funds neuromuscular lab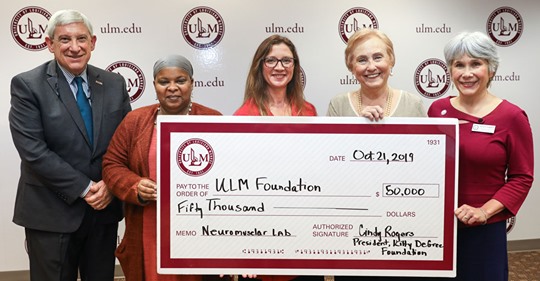 In 2012, Kitty DeGree reached out to her longtime friend and co-worker, Cindy Rogers, to set up a foundation that would promote higher education and health care.
Then, DeGree donated $1 million to ULM in hopes that her work would outlive her. And that's exactly what it did as she continues to contribute to campus years after her death.
Last Monday, the Kitty DeGree Foundation gave a donation of $50,000 to the College of Health Sciences to open a neuromuscular lab.
Dr. Lisa VanHoose, the director of the physical therapy program, said she believes the neuromuscular lab will not only benefit ULM but also all of Northeast Louisiana as well as other parts of the world.
"Today's donation is going to make a difference to ULM faculty and students, and also to our community. It also has the potential to have a global impact," VanHoose said. "It is going to allow our faculty to train students with cutting-edge access to assessment tools and equipment as they learn to diagnose and treat neuromuscular conditions and disorders."
DeGree is ULM's largest individual donor having given the school $9 million during her lifetime and afterward, according to ULM president Dr. Nick J. Bruno.
"Kitty DeGree has left a legacy that I suspect will be hard to match," Bruno said. "I have often said Kitty DeGree exemplified what giving is all about. She gave without an expectation of getting anything in return."
DeGree's mantra was "Service above self." Rogers, the Kitty Degree Foundation president, said she believes her predecessor lived her mantra successfully.
"Kitty DeGree had many community interests where she gave of her time and financial resources to promote and advance the services and programs she believed in," Rogers said.
VanHoose and ULM officials are in the process of aligning accreditation, constructing curriculum and hiring faculty.