Volleyball splits pair of home games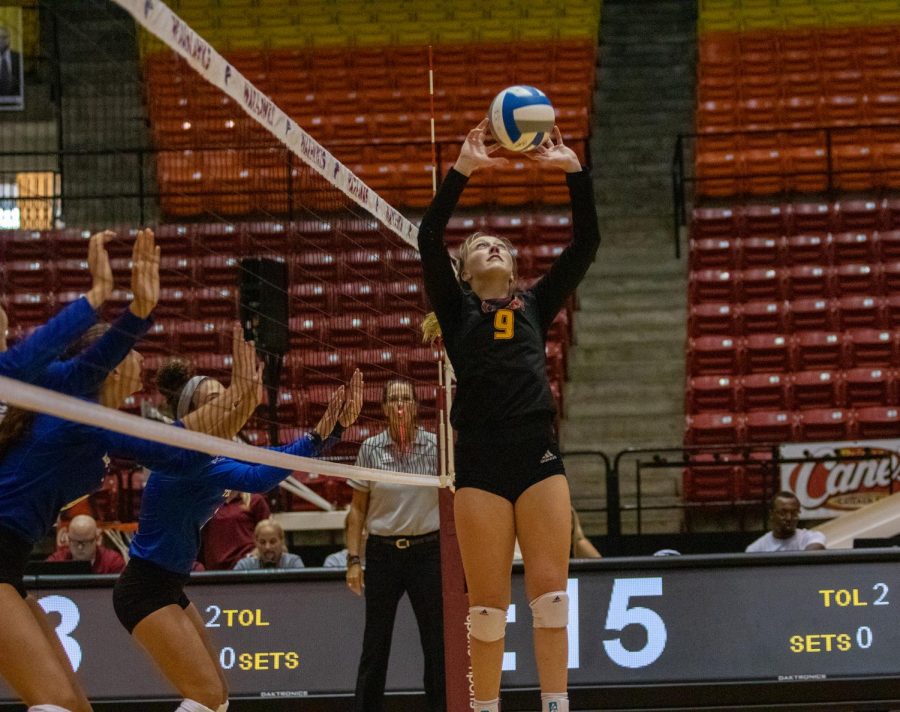 One streak has ended for the Warhawks and one continues. After going 12 straight sets without a win, the Warhawks won a set against Troy this week.
ULM still fell to the Trojans and South Alabama Jaguars, pushing the losing streak to seven straight games.
The Warhawks will look to get their first conference in Georgia next week, playing both Georgia State and Georgia Southern.
The Warhawks opened up the week at Troy.
In the first set, ULM gave up an early 3-0 deficit, similar to the issues from the week before.
But the Warhawks bounced back immediately scoring three points to time the set at three.
A back and forth first set changed from a kill by Kathryn Raschilla that gave the Warhawks a 19-17 advantage.
The Raschilla kill began a four-point ULM run, pushing the lead to five, 22-17.
The Warhawks would never surrender the lead again, finishing the first set 25-20.
"The first set was the most crisp volleyball we've played all year," Olson said. "We followed the game plan and executed extremely well."
The second set, though would be an immediate change. Again, ULM went down 3-0 before Ina Gosen got ULM on the board. Unlike the first set, the Trojans did not give ground going up 7-1.
The Warhawks would never get the led below five, dropping the set 25-17.
The third set began well for the Warhawks, opening up 6-3 before the Trojans fought back to tie, 10-10. The Trojans would win, 25-21.
Troy began the fourth set on fire, at one point leading 17-10.
The Warhawks could not battle back, falling 25-18.
ULM then traveled to South Alabama, falling 3-0.
"Overall, we made strides as a team and we will continue to make adjustments and better each contact," Olson said.
The first two sets went the same for the Warhawks, falling 25-19 in each.
In each set, the Warhawks started slowly allowing South Alabama to get out to early leads.
The third set started hot for the Warhawks, going up 6-1 before a South Alabama timeout.
The timeout did little as ULM extended the lead to 12-5 before the Jaguars used another timeout. This timeout was successful as the comeback began for South Alabama.
The Jaguars went on two 5-0 runs to get back in the match, before pulling away winning 25-21.