Panthers to come play at Malone for conference game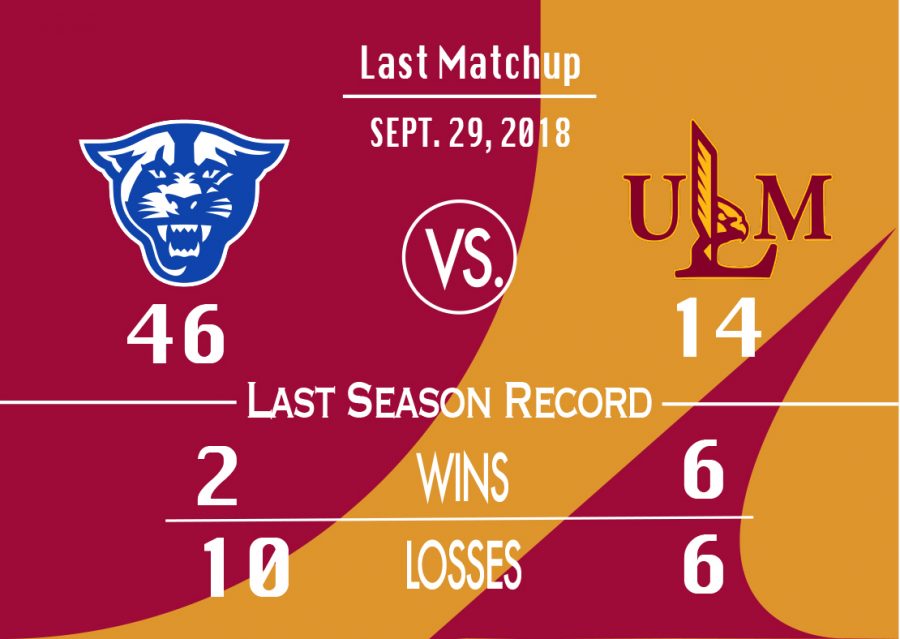 A disappointing loss over homecoming weekend puts the Warhawks (3-5, 2-2 Sun Belt) in a tough situation moving forward. For the Warhawks to become bowl eligible, they must win three of the last four games.
The anxiety for the Warhawks moving forward in the next game is against Georgia State (6-2, 3-1 Sun Belt) on Nov. 4, at Malone Stadium.
On the season ULM has struggled most consistently with their rushing defense. On the season ULM has given up over 230 rushing yards a game.
The run defense has been particularly unsure over the last two games as the Warhawks have given up 535 yards rushing.
Georgia State on the season is averaging 238 rushing yards.
The number one priority for ULM against Georgia State and the rest of the season is to shut down the run.
If the defense cannot stop the run, ULM will not make a bowl game.
The Panthers rushing attack is led by senior running back Tra Barnett and senior quarterback Dan Ellington.
Each player has over 500 rushing yards on the year.
Ellington has 18 total touchdowns on the year and must be the priority for the Warhawks.
If ULM can stop him from running the football, it will make it easier to shutdown Barnett as well.
Offensively, ULM has to figure out how to get senior quarterback Caleb Evans on the same page with his wide receivers since injuries and players prematurely leaving the team have created instability at a position that entered the season with question marks.
If Evans and the receivers can get a downfield passing attack going, it will open up more lanes for Evans to run and for running back Josh Johnson to run.
Watch for Evans to look to throw toward tight end Josh Pederson's way often.
Pederson on the season is first in catches and touchdowns with 31 and six.
Pederson is a mismatch for opposing defenses as he's too tall for cornerbacks and too fast for linebackers.
The Warhawks will need the passing game to be effective to beat the Panthers.
ULM must also keep its head up.
The season has been full of turbulence with injuries, close losses and questions at seemingly every position. All in all, though, ULM has played well.
That can change though after losing the homecoming game and if the Warhawks do want to become bowl eligible they cannot allow themselves to give up with four games still remaining.