Malone to see must-win game versus Coastal Carolina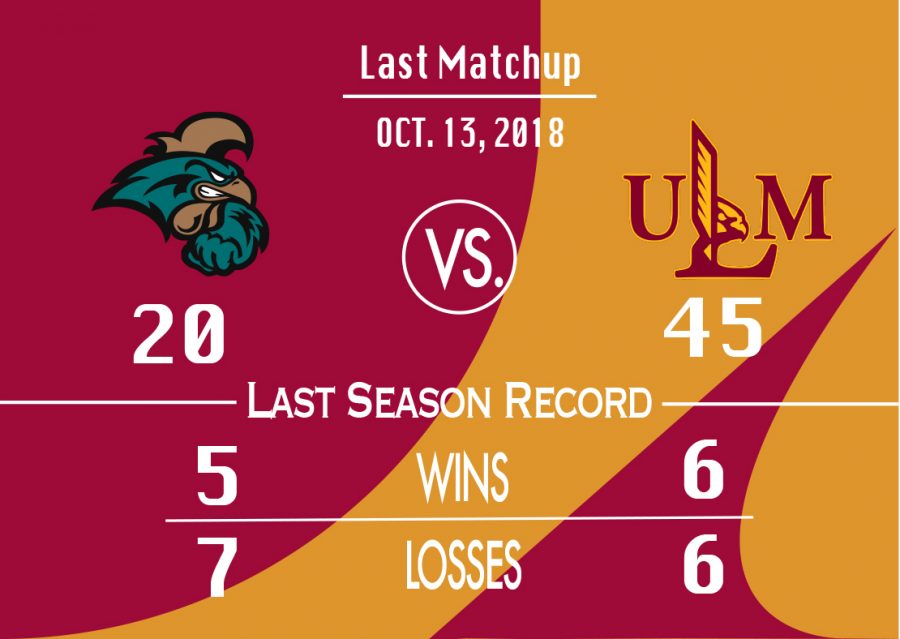 ULM will begin its most important game of the season at four p.m., Nov. 23, facing a must-win game against Coastal Carolina.
The two Sun Belt foes will meet for just the third time in the history of the two programs with ULM up 2-0, winning last year's game 45-20.
Last year's Warhawk team dominated both through the air and on the ground.
ULM will have a harder time this year, as the Chanticleers defense is holding opponents to less than 200 yards passing and just under 180 yards running.
The Warhawks must also play a full 60 minutes of football as Coastal Carolina has had five games decided by a touchdown or less.
The Chanticleers also never take their foot off the gas as they have consistently scored in each quarter. Coastal Carolina has scored 70 points in the first quarter, 74 in the second, 61 in the third and 76 in the fourth.
The Warhawks on the other hand have been less consistent in the first and third, scoring 66 and 57 in those quarters while putting up 84 and 87 in the second and fourth.
A potential positive for ULM is that it is a home game. The team will see the stands more full than normal as Saturday is Senior Day and the families of the Warhawk seniors should add a home field advantage element that is not always there.
ULM seniors will make or break the game on the offensive side of the ball as seven of the offensive pieces are seniors, including four offensive lineman, quarterback Caleb Evans, running back Austin Vaugh and wide receiver Markis McCray.
Evans will be the key to this game as he has been every game. Evans cannot have a repeat performance of his last outing versus Georgia Southern.
For the Warhawks to win, Evans will need to hold onto the football. Another important part of his game the Warhawks must see is his dual threat ability.
Evans' ability to run the football allows for running lanes for the rest of the Warhawk running backs, a good day from running back Josh Johnson will go a long way for the Warhawks, as in games where Johnson rushes for 90+ yards ULM is 4-2. Yet in games under 90 yards, ULM has yet to win.
For the Warhawks defensively, the game plan is simple- stop CJ Marable.
Marable is a threatening running back with 792 yards on the season and coming a dominant 142 yard game. For the Warhawks though, stopping the run has been a problem and stopping Marable would help ULM.
Shutting down Marable and playing consistently will keep ULM's bowl hopes alive but another slow first or third may just end those dreams.