Srdjan Marjanovic: Perfect example of talent, tenacity
Man behind the logo of ULM, creates better life for his family
A burly man with a thick, scruffy beard sits in his minimalistic office on the second floor of the library. In his office, he has gone through every promotional material ULM has published since his reign as the creative director of ULM's Office of Marketing and Communication.
"It's all about the mindset." This is the sentence Srdjan Marjanovic recites day in and day out, on a basketball court and in front of a computer. Srdjan, the current creative director of ULM and a former professional basketball player from Serbia, stuck with the same motto when he decided to go back to school after 13 years in 2008.
"He loves sports, particularly basketball. That's his first love. It truly is," said Alma Marjanovic, his wife and an academic advisor at ULM.
After a chronic injury in his leg, Srdjan had to quit on his dream.
"If he could choose what he could do in his life, like careerwise, I'm sure it would be something to do with basketball," Alma said.
Srdjan ran and co-ran family restaurants in many different countries such as Serbia, Spain and Chile. But after resolving to find something more stable, he decided to get a degree and start a career.
Srdjan studied in technical high school back in Yugoslavia. He always had the talent, but he never used it. He was the only student in his high school to have made a perfect blueprint of circuits when computers were not as popular and common. The hand and eye coordination that Srdjan has is a gift. As a result, he was able to be a good basketball player and, now, a good creative.
"I went to International Academy of Design's open house in Tampa. I didn't know what to do with this skill of drawing and the technical aspect of hand and eye coordination," Srdjan said. "The advisor there laid out all the prospects and asked me if I had thought about graphic design."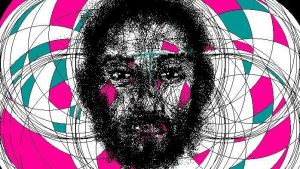 After taking English as second language classes for three semesters in a community college in Florida, Srdjan made his way to ULM. Despite having a certification in design from Art Instruction School, he decided to get a degree in graphic design in search of a stable future.
In spite of being a non-traditional and international student, Srdjan was set to conquer college and chase that elusive "American dream." He didn't fear any obstacle but craved for more. Working a job and dealing with college is hard enough for some students. Srdjan had three jobs at hand when was working on his bachelor's degree. He excelled at all of them.
He was appointed as the art director of the student newspaper, The Hawkeye, in 2009. He believed he was underqualified for the job but over the summer Srdjan learned all the ins and outs of newspaper design from Dr. Christopher Mapp, an associate professor of communication at ULM.
"He surprised me on how far he was willing to take it. He was like a sponge for the first couple of years. And once he got enough background, he was just off and running." said Mapp, the advisor of Student Publications.
Srdjan has left a similar, positive mark at another job.
"I knew they [Srdjan's classmates] would do a great job. I trusted them implicitly. So, they went out and really became an ambassador for us, going out in the community. They got great experience, some good portfolio material but mainly, they made us look good," said Brian Fassett, an art professor at ULM.
Srdjan also worked as an intern for Alliance One Advertising Inc. This implies how knowledgeable he was, how much he was respected by his professor and how desired his skills were.
For his third job, Srdjan worked as ULM's Student Success Center lab manager. He closed the center every night on a weekday after working several hours.
Handling all these responsibilities along with school work shows how much effort he is capable of putting in at once. But this dedication and effort are not only present in his jobs, these qualities actually shine brighter in his artworks.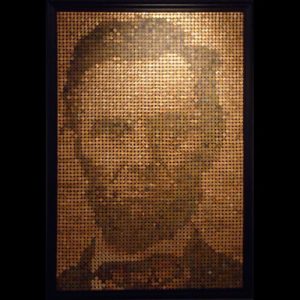 Srdjan is capable of completely submerging himself in his work. He spent a couple of months making a portrait of Abraham Lincoln with pennies that now hangs on the sixth floor of the ULM library.
"I helped him with [cleaning] pennies. The main thing was to divide all these pennies into different nuances of color: the new ones, the lighter ones, the dark ones. It's kind of like shading," Alma said.
He can work tirelessly, day and night, until he achieves his goal. Srdjan also puts in a lot of research and reasoning behind the works he publishes. Everything has a reason.
These traits are still prominent in him at his current work at OMC.
"Everything he does is planned out via research. So, there is always something to back up what he is presenting you," said Shanette Washington, the graphic design coordinator at OMC and Srdjan's co-worker.
As a result of his research-oriented behavior, he was able to create the new ULM logo. The logo has a lot of research associated with it. The logo was implemented not only because it looked good, but especially because Srdjan had reasoning behind every single element that made up the logo.
Aside from being accomplished career-wise, Srdjan is also a well-rounded parent. He is a father to his only daughter, Milena.
Srdjan is paving a bright future for his daughter. He gave up on his ultimate dream to be a basketball player and decided to create a stable future using his tireless dedication and God-gifted talent. The virtues of Srdjan that seeps out of him will definitely influence her life.
But talking about the present context, Srdjan has inspired people around him and has always spread positive influence wherever he goes.
One can definitely learn from him that with relentless effort, and the right mindset they can push through and conquer obstacles of any size.