Which gaming console is better: Nintendo Switch or Lite?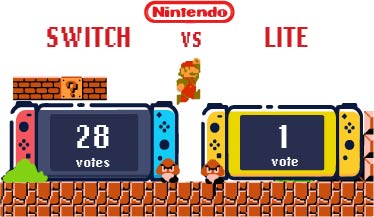 In 2016, Nintendo unveiled their hybrid gaming console—the Nintendo Switch. Over the past four years, the console has grown to unfathomable popularity with over 41 million consoles being sold worldwide.
Seeing the love the Switch was receiving, Nintendo began working on developing the Nintendo Switch Lite which is a cheaper version of its predecessor. But now lies the question that every gamer and Nintendo fan must ask themselves: Should I buy a Nintendo Switch or a Nintendo Switch Lite?
Well, it all comes down to what you as an individual like to prioritize.
Playing a game on the Switch for the first time was an experience unlike any other when compared to previous consoles due to its versatility.
When gaming, a player used to have to have multiple consoles for different functions. For example, for hand-held gaming you either had to have some variant of the Nintendo DS, a PSP or a Game Boy.
Then, for gaming on a TV you needed a PlayStation or an Xbox. But with the Nintendo Switch, anything is possible. The system was built to be used in multiple ways.
You can hold the Switch in your hands while lying down in bed or you can hook the system up to your TV and enjoy the detachable joy-cons with straps similar to that of Wii controllers.
If the joy-cons aren't your personal forte, then you can buy a Nintendo Switch Pro Controller instead for gaming much more reminiscent of the PlayStation or Xbox. The Switch also has the ability to be a table-top console as it has a stand attached to the back for easy use.
The transition from the Nintendo DS to the Switch led Nintendo to create some phenomenal video games including one of the most critically acclaimed video games of the decade, "The Legend of Zelda: Breath of the Wild."
The unique system partnered with must-play games makes the Nintendo Switch a must have, but one must always consider the price before forking up the cash.
The Nintendo Switch costs $299 on its own, but to enjoy the console to its fullest you are going to need a couple of things: games, a Switch case, at least one Nintendo Switch Pro Controller and in some cases, a microSD card to save data.
These extra expenses can add up to $100 or more dollars. As a college student, do you really have all that extra cash lying around? If not, don't worry—Nintendo has come up with a solution—the Nintendo Switch Lite.
The Nintendo Switch Lite was released last year. In its first two days in stores and online, about two million consoles were sold.
Compared to the original Switch, it doesn't have as many features that might make a gamer say, "Wow!" Instead, it is much like the Nintendo DS where it is purely a hand-held console with non-detachable joy-cons. It also only costs $199, without extra expenses needed making it hundreds of dollars less expensive.
The choice between the Nintendo Switch or the Nintendo Switch Lite comes down to a single question: What is more important to you? A low-price point or versatile features?