ULM comes up short in Texas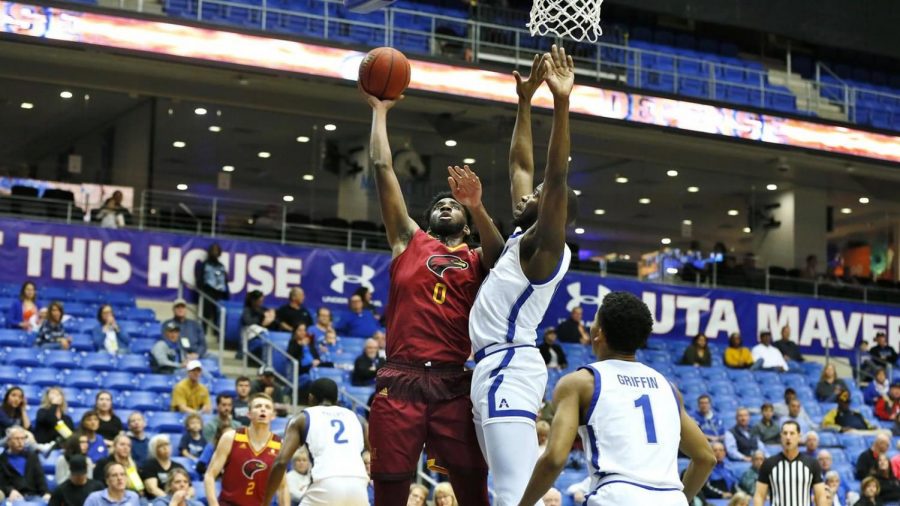 An undermanned Warhawks team traveled to Texas looking to break its six-game losing streak but could not falling to Texas State, 71-51 as well as UT-Arlington, 68-54.
The Warhawks will look to end its eight-game losing streak against Georgia Southern and Georgia State on Thursday and Saturday in Fant-Ewing.
The Warhawks were without its second-leading scorer and rebounder JD Williams who suffered a season-ending ankle injury against the Ragin' Cajuns.
Without the offensive firepower of Williams, the Warhawks struggled to score especially in the second half.
ULM shot just 38% from the field and 15% from behind the three-point line on the game. The numbers were worse in the second half as ULM hit just 33% of their shots, going 0-8 from the three-point line.
"It was the tale of two halves," ULM head coach Keith Richard said. "We played really well in the first half. We guarded them well; held Texas State to 23 percent from the field."
Defensively the Warhawks were successful holding Nijal Pearson, the Sun Belt scoring leader, to a season-low eight points, shooting 2-16.
Pearson did not score until around the nine-minute mark of the second half.
"At times, Langston Powell did really well guarding Nijal Pearson," Richard said. "Langston stayed disciplined against him because Pearson shot fakes a lot. He's a crafty offensive player, so you have to be disciplined with your hustle. Langston did a good job defending him."
While Pearson struggled the Bobcats got a lift from bench players Alonzo Sule and Shelby Adams, who scored 15 and 12 respectively.
The Warhawks were led offensively by Michael Ertel and Tyree White, who had 18 and 15.
White entered the game on fire averaging 17 points and nearly eight rebounds over the last five games.
In the second game of the week for ULM the offense again struggled.
In the first half against UT-Alrington the Warhawks scored just 25 points, shooting just 33% from the field and 18% from three.
For the game, ULM shot 40% from the field and 29% from three.
The Warhawks were led in points by Tyree White with 11, shooting just 4-13. Michael Ertel was the only other Warhawk to score in double digits, scoring 10 on 5-11.
Neither player made a three-pointer going 0-6 as a pair.
Defensively, ULM struggled more against the Mavericks as Sam Griffin and Jabari Narcis combined for 30 points, shooting 11-17. The two combined for seven three pointers which was three more than the Warhawks.
Perimeter shooting was the big difference in the game as the Mavericks had 27 more points from threes than the Warhawks.