Warhawks split 4 games at Mardi Gras Invitational
ULM tops Jaguars twice, fall to Ladyjacks twice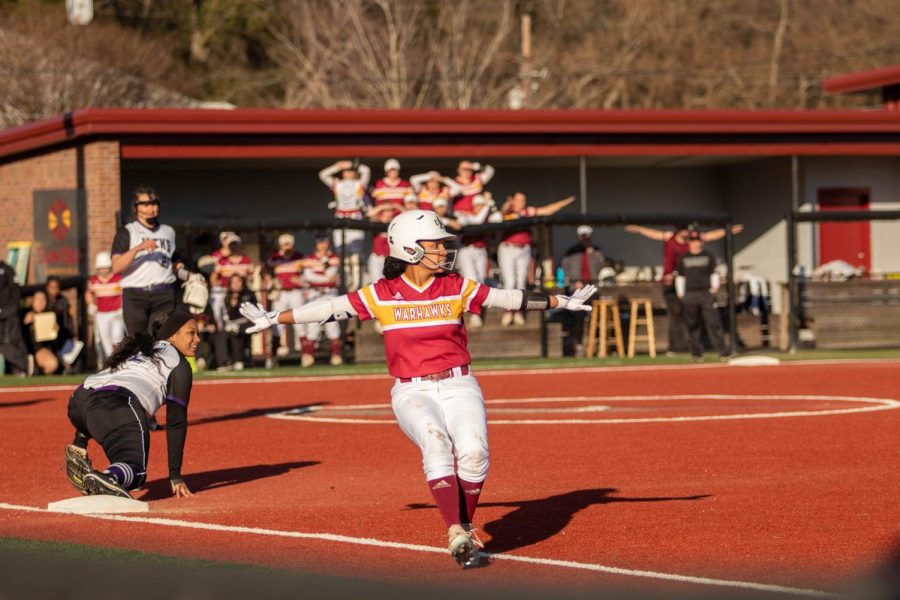 After taking nearly a month to win two games last season, the ULM softball team took just four games splitting an opening weekend with two wins against Southern University, 9-1 and 5-0, and two losses to Stephen F. Austin, 8-2 and 12-0.
ULM will play seven games next week. Opening the week at I-20 rival Louisiana Tech on Tuesday before coming home to play other I-20 rival Grambling State on Wednesday.
The Warhawks will then head to Conroe, Texas to play in the Scrapyard Tournament.
To open the Mardi Gras Invitational SFA faced off against SU, throwing a no-hitter in a 3-0 win.
The Ladyjacks would carry that momentum into the game against the Warhawks putting the pressure on freshman pitcher Kassidy Giddens by scoring in the first.
Followed up by a four-run second, second year head coach Molly Fichtner made the decision to pull Giddens, putting in senior Jessie Watts who allowed three runs over 5.2 innings.
"Jessie is such an even-keel pitcher," Fichtner said. "She never gets high and never gets low. She had to find her rhythm and once she did, she was fine."
The second game of the weekend would take just five innings as after a Kameri Mott homerun put Southern up, 1-0, Amber Coons would allow no more runs.
Coons would pitch all five innings, allowing seven hits and striking out five.
"It's great to see Amber in a Warhawk uniform and even coach Wodach said she came out guns blazing with that first pitch and really set the tempo for that game," Fichtner said.
ULM would respond during the bottom of the first as a Jayden Mount ground out would score Korie Kreps.
The second inning would doom the Jaguars as ULM put up six runs.
Jessica Williams would open up the scoring in the second with a two-run double.
The hit was the first of Williams' career.
Two more runs in the fourth inning would put the Warhawks up eight runs and after a scoreless top of the fifth the Warhawks would win by run rule.
To open Saturday play, the Warhawks would play Southern again with Murphy Williams on the mound.
Williams would throw seven scoreless innings, giving up just two hits striking out four.
"When you beat a team in a tournament, it's really hard to come back and beat them the second day," Fichtner said. "We came out and took care of business and Murphy threw lights out today."
Watts and Kreps would lead the Warhawks offensively. Watts went 1-3, with a homerun and two RBIs.
Kreps went 1-1 while walking her other three at bats.
Kreps also added one run scored and two stolen bases.
The last game of the weekend would not go the Warhawks way as SFA would dominate the Warhawks winning 12-0.
Coons would get her second start of the season, giving up five runs over three innings.
Sophomore Karly Taranto saw her first appearance of the season giving up five runs in one inning, getting the loss.
The offense went silent with just two hits on the game, both singles from Kreps and Alysia Anderson.
Concerning for the Warhawks is that the ace of last season's staff, Adrianna Chavarria, did not pitch over the weekend and was seen in street clothing all four games.