Committee chooses 3 finalists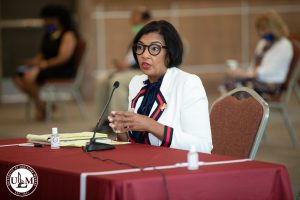 Katrice Albert is the Executive Vice President of S2A solutions. She is also a founding member of Third Eye Consulting LLC, a diversity management consulting firm. She previously served as the Executive Vice President of inclusion and human resources at the National Collegiate Athletic Association.
One of her main goals as ULM's president would be to "propel people." She said she wants to provide access to everyone including staff, faculty, students and the community in her meeting with students and at her interview with the Presidential Search Committee.
She also mentioned she wants to think about the growth and development of ULM as we get closer to the centennial of the university. Instead of ULM being the hidden gem on the bayou, she said she wants it to be the national gem on the bayou.
To bring in money to the university, Albert has a few ideas. She said enrollment is not where it needs to be right now and bringing more people in would be one way to help the school financially.
She also mentioned the need for more alumni involvement to bring money in. She said there are more than 60,000 alumni but only about 1,200 paid alumni in the Alumni Association.
"We can't fuel generosity without having our alums amplify, be champions for us," Albert said, adding we have to have our faculty to run after grants and external sponsorships. "We get nowhere alone."
When asked about diversity, she said, "It is critical that higher education be on the forefront in terms of thinking about how we manage these challenges."
She said we cannot just hope for inclusivity; we have to work for it and go after it.
She said while she worked at LSU, they had the most diverse class in the school's history but that diversity among faculty is just as important. If elected president, Albert wants to create an office that is dedicated to inclusive excellence.
Because of her past work with the NCAA, she understands the importance and need for sports at a university.
"Athletics is a window into excellence," she said. "We are in the human development business."
Albert said she understands that 500,000 student athletes all across the country want to compete. But it's the universities' job to make sure they understand the importance of their academic excellence, their health and wellness.
Where student relations are concerned, she said it's necessary that students have a voice. Albert has mentored students throughout her career and said she not only teaches her students but learns from them.
"The student voice is the voice of reason," she said. "It is the voice of the future."
---
Ronald Berry has worked at ULM for 25 years. For 16 years, he has been a dean. First, he was the Dean of the College of Business Administration. He is currently the Dean of the College of Business and Social Sciences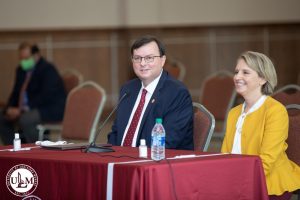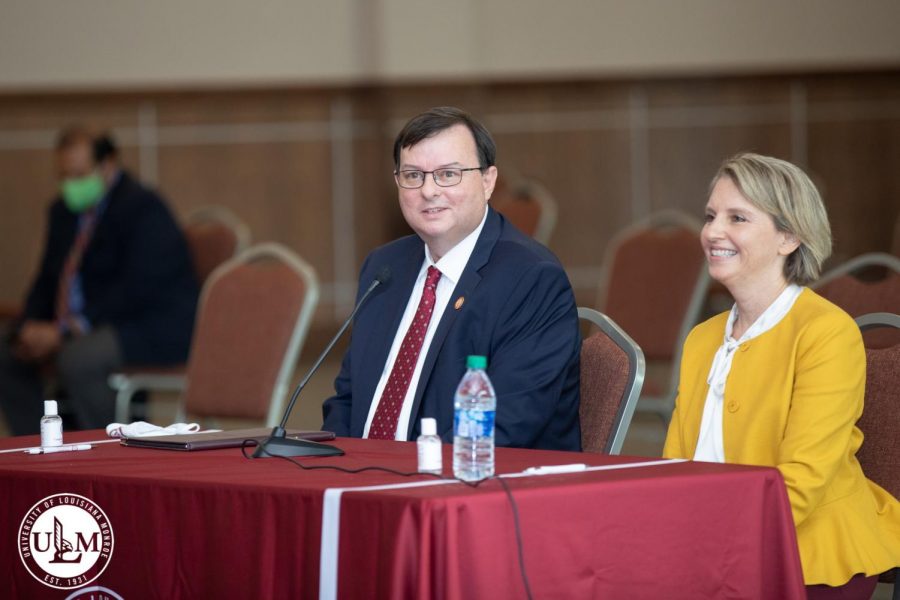 If elected president, he plans to use his knowledge of business to help with ULM's financial challenges.
"We've got to stop using the state as an excuse for not doing what we need to do," he said in his interview with the committee on Wednesday.
He wants the school to reach out and develop partnerships with businesses that want to help make a difference. Berry also said he will re-evaluate the amount of money that students are paying.
In his forum with students on Monday, he told them, "You pay too much money."
He said we need to start asking the question, "Where is my money going?" if elected, he wants to look at possibly reducing fees or reallocating them.
When asked about diversity at ULM, he spoke about how he recently looked over the school's strategic plan and discovered it said nothing about diversity. That led to the creation of the diversity, equity and inclusion plan that is now included in the strategic plan.
He also spoke about "Call Me Mister," a program created by his uncle that aims to help African American men become teachers. Berry said he would like to have the creator of the program help ULM in its efforts to diversify.
Berry told the committee about his passion for helping students. He said we have some amazing faculty on campus who all share the common goal of changing lives.
He told a story about personally going to the financial aid office with one of his students to help them sort out their financial trouble.
"I will show up for students," he said. "We are committed to changing the lives of students in every way possible."
The committee also asked him how he would balance athletics and academics as president.
Berry said athletics go hand-in-hand with academics and it's important for both to be strong. The strength of one improves the strength of the other.
He said there are financial challenges that don't help the situation but he believes if we form a plan and bring in the right people to the table, we're headed in the right direction.
"We're ready. We're able. We're committed," Berry said. "We want to do everything we can not only to raise this university to new heights but change this community that we live in."
---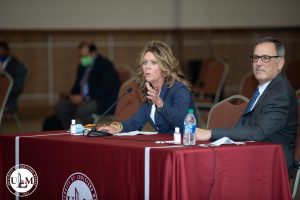 Jeannine Kahn is the Provost and Vice President for Academic Affairs for University of Louisiana System.
She is also the Co-Chair of the UL System Taskforce and has 30 years of experience in higher education.
She chose to run for ULM President because she loves the energy of its campus and the dynamic of the students, faculty and staff.
She said she has felt at-home at ULM ever since the first time she came to campus.
At her interview with the committee, Kahn spoke about the importance of student involvement with the community.
"They almost learn as much or even more outside of the classroom," she said.
She said that it's vital for students to have experiences outside of the classroom and to be connected to the community.
She also talked about community in her meeting with students, specifically the value of Greek Life. She made it clear she is an advocate.
"It gives them a sense of partnership, a sense of family," Kahn said.
She said she is a supporter of whatever can be done to provide students connectivity and a sense of family.
When asked about diversity, she said ULM needs to make sure when there are staff positions available, they consider a diverse pool of applicants and create an environment where new everyone feels welcomed.
"We do need to create an environment of respect," Kahn said. "An environment that understands people coming from different walks of life."
As for athletics, Khan said, "Athletics is important to every institution."
It enhances the college experience. It allows students athletes to attend college when maybe they wouldn't have otherwise been able to.
She noted ULM's athletes have an average GPA of 3.4 and that's something that the school is doing right.
"We need to figure out what that financial picture will be," Kahn said. "It's going to be a challenge but it's certainly nothing that we can't overcome."
What she hopes for in regards to athletics is for more students to attend games.
As president, she said her leadership style will be focused on conversation, data and discussion. In decision-making she believes in transparency and communication.
That's how she will approach shared governance with the faculty.
She said she knows that everybody is never going to agree, but when she makes a decision that someone doesn't like, they will at least understand why it was made.
"We need to grow, we need to dream, we need to move forward," Kahn said.