Hurricane hits campus, affects student life
As Hurricane Laura ripped its way through southern Louisiana last week, ULM students prepared for the worst.
Some, like Taja Jackson, a Bayou Village Apartments resident, bought candles and groceries. Others fled to their parents' houses or attempted to secure themselves in their off-campus homes. However, students' precautions were not enough to prepare them for what was to come.
Isabel Lewis, who lives on campus, was not worried about the hurricane. Now, she, like many others, has been without power since Thursday morning.
"I definitely did not take enough precautions as I didn't think it would be as severe as it was," Lewis said.
Andrew Hardee, assistant director of ULM Residential Life, said over 1,000 students in Masur Hall, Madison Hall, Bayou Suites and Bayou Village Apartments were without electricity and hot water Thursday morning.
"Entergy is aware of our situation and has promised to work as quickly as they can," Hardee said.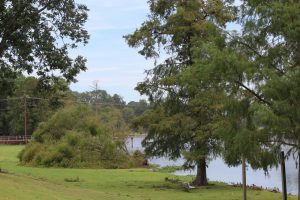 Yet, full restoration to campus took until Saturday at 3 p.m. According to KNOE, about 60,000 Entergy customers lost power in Ouachita Parish during the hurricane.
ULM attempted to accommodate students as the power outages continued.
Schulze Dining Hall was among the university buildings without electricity, so the SUB took on extended hours to provide residential students a place to eat.
Also, the SUB's second floor was available for students to connect to Wi-Fi, charge electronics and enjoy air conditioning.
The University Library reverted back to 24-hour operation until power was restored to the entire campus.
But off-campus students are still facing the effects of Hurricane Laura, with little to no accommodations from the university.
Melody Stanfield, a junior psychology major, said she is stuck at home with no electricity or water and downed powerlines blocking her only exit. Stanfield worries for her GPA as she said her professors aren't being lenient with deadlines despite the hurricane.
"I have emailed professors about extensions on my assignments and have either been told no, that we should have worked on our assignments ahead of time or no response at all," Stanfield said. "I feel extremely frustrated because I have worked extremely hard to maintain my GPA and having no electricity is beyond my control."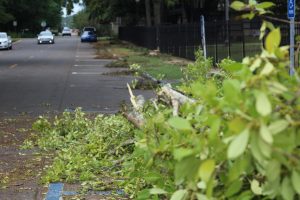 Other students, like Jackson and Lewis, said their professors have extended deadlines but only until Monday.
Classes have been cancelled this Monday, but are scheduled to resume on Tuesday.
Louis Brown, a maintenance worker, has been employed by the university for over 30 years. He has helped clean the campus after storms on multiple occasions, and the day after Hurricane Laura was no different.
Brown and the rest of ULM's maintenance crew arrived at school around 5 a.m. Friday to begin assessing the damage. Multiple trees fell during the storm and branches were scattered across campus.
Maintenance hauled branches away diligently until sunset. According to Brown, another day of clean-up should get the job done. Working to restore campus to its former beauty is something Brown takes pride in.
"We've got the most beautiful campus in Louisiana," Brown said. "We are working hard to get rid of the branches."