Ronald Berry elected 9th president of ULM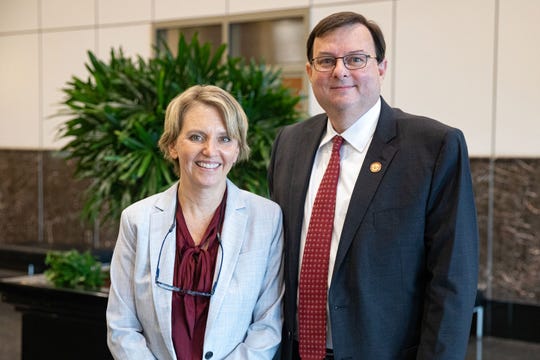 On Sept. 3, Ronald Berry was elected the ninth president of ULM.
The UL system board of supervisors voted after interviews of the three finalists in Baton Rouge. The other finalists were Katrice Albert and Jeannine Kahn.
Berry has worked at ULM for 25 years. He began as an assistant professor and eventually worked his way up to dean of the college of business, before becoming dean of the college of business and social sciences.
Acording to Berry, the question of whether or not he would ever run for president started coming up 10 or 15 years ago. He said it definitely crossed his and Dr. Christine Berry's minds before.
"For both of us, I think the opportunity to serve and make a difference in other people's lives is what drives us," Berry said. "When this opportunity came up, it was a no-brainer for us."
As for his first few weeks in office, Berry said his first priority will be to listen.
Although he's been here for 25 years, he said there's a lot of amazing people on this campus and he wants to hear from them.
"We were very fortunate to have the support of really the community at large and the campus," Berry said. "They inspired us and they have a lot of great ideas."
Janelle McDaniel was a member of the presidential selection committee, which was tasked with selecting the three finalists that the board would choose from. She voted for Berry to become a finalist.
"His enthusiasm for building the future of ULM was evident during the interview process," McDaniel said. "He clearly demonstrated that he could work with everyone to achieve a better university and a better Northeast Louisiana."
McDaniel saw Berry as the best choice for president because of his "strong history of leadership, commitment to diversity and equity, and engagement with the community."
She said that in the future, she hopes Berry will support the development of ULM's efforts to be a collaborative, diverse and inclusive institution.
Another committee member was senior SGA president, Olivia Bailey. While she was not a voting member, she voiced her strong opinion that Berry was the best choice for president.
She said that he excels in both fundraising for the school and community support.
"He really cares about students' futures and is centered around every ULM student," Bailey said. "He is the epitome of a servant leader."
Bailey also mentioned Berry's commitment to connecting with students. She said that over the years, he's been known to eat in the SUB and wait in line with students, being visible and building relationships with them.
For any students who are unfamiliar with president Berry and don't know much about him, he said he wants them to know that he's an authentic and caring person, and that caring for and serving others is who he is.
"I don't know how to be anything other than myself," Berry said.
Berry officially takes office Sept. 14.