ULM alumna creates website, teaches Monroe community sign language
Growing up, Tracee Albert didn't realize how unique her lifestyle was. She didn't realize learning American Sign Language before learning how to talk was untraditional. She didn't realize being raised by two deaf parents was not normal. It wasn't until Albert started going to school that she noticed the differences between her and her classmates.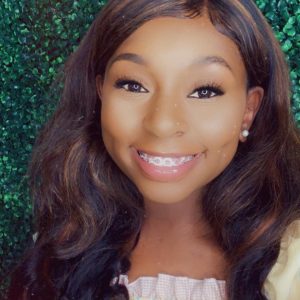 "At first, it was hard," said Albert, ULM alumna. "When I started making friends at school and going to their houses I realized my parents couldn't hear, they couldn't speak and it wasn't really normal."
But Wendy Albert, Tracee Albert's cousin, s
aid she believes those experiences are what made her into the woman she is today.
Tracee Albert always wanted for more people to be able to speak with and understand her parents. So, in August 2020, she launched a website, Feel Seen, with that same idea in mind. Feel Seen's goal is to "bridge the gap between the hearing and deaf communities."
"Everyone has the right to be seen and to feel heard," Tracee Albert said. "So, even if someone has a disability, it doesn't mean that they shouldn't be able to communicate."
Since Tracee Albert is pursuing a career in occupational therapy, she doesn't have time to teach face-to-face ASL lessons. So, she thought creating a website would be a great opportunity to teach through pre-recorded videos.
Feel Seen offers ASL lessons for $30 an hour. Each lesson includes a set of instructional videos and outlines to help with studying.
The idea for Feel Seen came to Tracee Albert in late 2019 just as coronavirus started to emerge. So, while others were learning how to bake bread and binge-watching Netflix originals, she was learning how to create a website and start a business from scratch.
Along with the website, Tracee Albert established the Feel Seen Scholarship Foundation.
Three $1,000 scholarships will be given to college students in 2021. To raise money for the scholarships, Feel Seen sells merchandise like t-shirts and face masks with clear panels to help deaf people be able to read lips during the state-issued mask mandate.
Tracee Albert is certified to teach sign language through Baby Signs, a program created to teach ASL to babies. She learned about Baby Signs during her time in ULM's occupational therapy program.
Wendy Albert, a Feel Seen team member, said that eventually Feel Seen wants to be a global initiative.
But for now, Feel Seen is focusing more on local ASL education and awareness. Tracee Albert is in the works of organizing an in-person ASL workshop to be held in a park in the near future.
"For Tracee to launch Feel Seen, it is a great win for our family," Wendy Albert said. "We are so proud of her using her talent to help educate others for a greater purpose."