Stoker steps up as ULM's defensive coordinator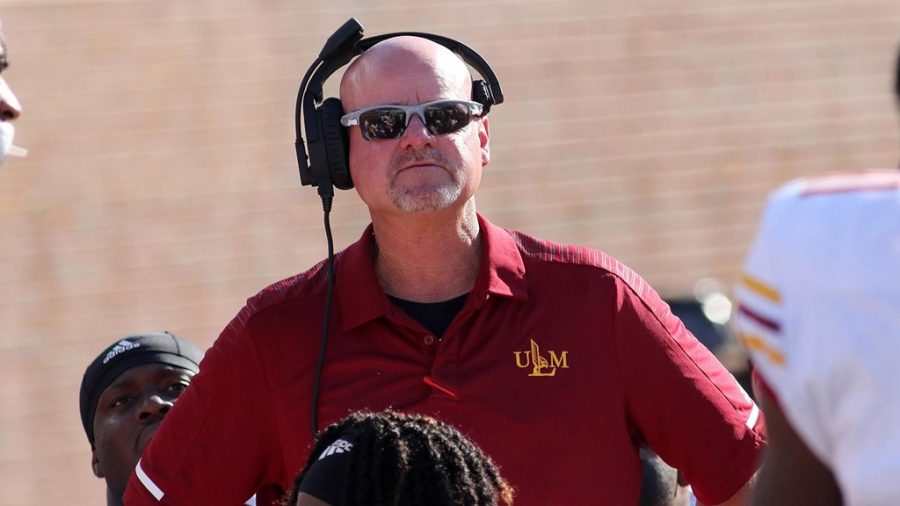 With the 2020 football season kicking off Sept. 12, there are recent changes to ULM's football team staff. Scott Stoker, the previous linebacker coach for the Warhawks, has replaced Mike Collins, the previous defensive coordinator.
Matt Viator, head coach, said the decision to promote Stoker wasn't difficult.
"I played against Scott a lot of times when I was on the offensive side of the ball and he was on the defensive side of the ball," Viator said. "He certainly knows what he's doing, and as tough a day as it is to lose Mike, the easiest thing I've had to do is move Stoker up."
Collins announced his resignation before the start of the season. Stoker has 30 years of collegiate coaching under his belt and was the defensive coordinator at the University of Texas at El Paso from 2013 to 2015 before coming to ULM.
During Stoker's time at UTEP as the defensive coordinator, the Miners improved drastically on the defensive side of the ball lowering the allotted points per game from 39.3 to 28.1.
In 2015 the Miners recorded 65 tackles for loss, including 22 sacks and 12 takeaways. They also improved in defense by more than 100 yards per game, surrendering 368.1 yards per game in 2014 versus the 468.3 yards in the earlier seasons.
Not only did Stoker improve the defense, he also coached UTEP's linebacker crops.
Prior to working at UTEP, Stoker was the defensive coordinator at Sam Houston State University for four years where he gained back-to-back Southland Conference Championships and made multiple appearances in the National Collegiate Athletic Association Football Championship Subdivision game.
In 2012, the Bearcats ranked sixth nationally in rushing defense under Stoker's instruction. SHSU led the Southland in all five defensive stat categories including scoring defense and turnover margin. For Stokers efforts in 2011, he received NCAA FCS Defensive Coordinator of the Year by FootballScoop.com.
In 2010, his defense unit ranked eighth in rushing defense at 100.1 ypg and 17 in sacks with 2.7 ypg. Along with the incredible stats put up by his defense unit during his time at SHSU, fourteen of his players combined earned all-conference honors 22 times.
NCAA Division 1-AA playoff appearances.
His Northwestern teams broke 46 school records while setting 5 NCAA I-AA and 10 Southland Conference marks. Stoker finished coaching at NSU with a 43-38 record within the seven seasons he was there. He was also named as one of the nation's Top 10 Recruiters by American Coaches Monthly.
Prior to working at NSU, he worked eight years as the assistant coach at McNeese State University. During his time there, his team appeared multiple times in the NCAA I-AA playoffs and once advanced to the national semifinals.