Local artists bring Black Lives Matter message to campus
Students gathered at Bayou Park Jan. 25 to see unveiling of BLM art installation
Born a target. No justice, no peace. End white silence. Black women matter. Be the change. I'm just tryin' 2 get home. These are all statements painted on the Black Lives Matter art display in Bayou Park.
Each letter was painted by a different artist who expressed what BLM means to them.
Monday, Jan. 25, the Cultural Diversity Council and Black Creative Circle of North Louisiana partnered to present an art unveiling of the BLM statement piece.
The Black Creative Circle is an organization of local artists that create all kinds of art.
Sixteen of these artists painted each letter uniquely to tell a story from their own life and experiences.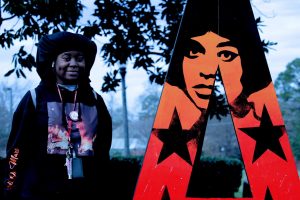 Jennifer Haynes, an artist of Black Creative Circle, painted the "B" in the display. On the "B" was written the phrases "End white silence," and "Be the change."
"I have white friends that tell me they support me, but when this happens, it's silence," Haynes said.
Erick Burton, president of the Cultural Diversity Council, said that the idea for this event was formed during the summer after several displays of racial injustice sparked protests around the country.
After months of planning, the council decided that the unveiling would be a great way to kick off Black History Month.
"We are here for everybody, people of different genders, sexualities, origin," Burton said. "We are here for you. Our purpose is to bridge gaps and to be a voice for every student on this campus."
Hollis John Walker Jr., senior kinesiology major, said that this public display of support from ULM and the community makes him feel included, seen and heard.
"Some Black students feel like their voices don't matter, their lives don't matter," Walker said. "And in the world today, it's important for us speaking that it does matter and people do care about our concerns and our safety most importantly."
ULM faculty and Cultural Diversity Council officers welcomed the students and gave remarks before the revealing of the letters.
Miss ULM Allison Newton said in her speech, "I cannot tell you how moving it is to see this installation on a predominantly white campus in a state where racism is as deeply rooted as an oak tree on a plantation."
Burton said that ULM was completely supportive of the unveiling, the artwork and the council.
The new administration wants to show that they are here to support all students.
Brooke Foy, a Cultural Diversity Council advisor and assistant professor of art at ULM, said that she was proud to see BLM come to campus.
"The arts offer an opportunity to encourage discussion," Foy said. "We need to talk about it."