Tom Torregrossa selected as finalist for Campus Safety Director of the Year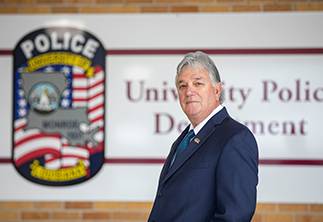 Tom Torregrossa, the director of campus police, has implemented a lot of successful campus safety regulations in his five years at ULM. That's why he's been chosen as a finalist for Campus Safety Director of the Year.
There are only 17 other finalists for the award across the country and the winner will be chosen in July in Maryland.
Torregrossa said that he is both humbled and honored to be nominated for the award, and that it's a result of ULM's and UPD's dedication to campus safety.
"The area that I am most proud of is the ability of our officers to build relationships with the students, faculty, staff and visitors to the ULM community," Torregrossa said.
The police department has implemented many new campus safety precautions, like the extra lighting in high traffic areas on campus and in academic buildings at night.
Officers also patrol academic buildings at night and last semester they assigned a residential resource officer to do the same in residential buildings.
Torregrossa said that the relationships that UPD officers have built with the ULM community have made them more approachable and ultimately has made the campus safer.
Of course there's also the ULM Safe App, which allows for quick connection to the police department and anonymous reporting.
"The safety of the students, faculty, staff and visitors to the ULM campus is the driving point behind who we are and what we do at UPD," Torregrossa said. "This is not just a job to us; it is our passion."