Warhawk finds new business in creative hobby
Delayhia Stipe explores leadership, creative skills with business idea
At the height of pandemic boredom, Delayhia Stipe stood in her kitchen in front of a t-shirt designing machine, which had previously been gathering dust, as she waited anxiously for her first design to print.
This was the first product ever customized by Divined by Dae.
Delayhia Stipe launched her custom print business, Divined by Dae, during the lockdown early in 2020.
"I have always been interested in making my personalized items but I did not get that push until COVID-19 happened," Stipe said. "I started making stuff for people and people liked it so I decided to make a business out of it."
Chiemeka Onyemechara, who works with Stipe as president of the Ambitious Women Society, said she was not surprised when Stipe told her she was going to start her customizing business. In Onyemechara's eyes, Stipe has always been innovative and ambitious.
Stipe manages her business while working two jobs on and off-campus. She is a member of 31 Ambassadors, the president of the Pre-pharmacy Organization, the vice president of Ambitious Women Society all while juggling her course load as a junior pre-pharmacy major.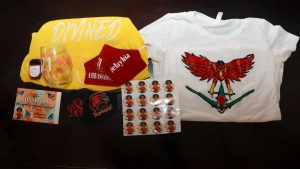 "I don't think there has ever been a difficult time for her," Onyemechara said. "She is quick with her work and has amazing business and customer skills."
Stipe has a planner that she uses for everything as most of her meetings and activities are set in stone. She usually tells her customers to give her two to three days after payment has been received for her to complete their order.
"[My friends and family] are the reason why I am still going. The biggest motivation was the response I got from people. They liked my work and told me to keep pushing," Stipe said.
Stipe's family and friends have helped and supported her. Even though she doesn't ask them to purchase any of her items, they buy from her, at full price, all the time.
"Being that I have ordered from her several times, her work speaks for itself. It is amazing and highly exceeds any expectations I have for my orders," Onyemechara said. "Her products are very long-lasting as well."
Every year, Stipe sets monetary goals for herself. This year, she is trying to beat the amount she made last year. She is also trying to grow connections through her business.
"This business helps me give back to the community in my special way. It helps me develop my communication and customer interaction skills," Stipe said. "Being involved with the community and taking orders from people helps me be more professional when I become a pharmacist."
Stipe plans on continuing her business even after she begins pharmacy school in the fall because designing and customizing products is a form of stress relief for her.
"One advantage of starting this business in college is that a lot of people like personalized stuff especially in college, so it's a lot easier for me to get access to customers. Plus college students like to work with people that are around their age group," Stipe said.
One big obstacle to starting your own business in college is miscommunication, according to Stipe. People will try to take advantage of you because you are a small business and in college. Some people will try to downplay your prices and even flat out ignore your business policies.
Jalyn LeBlanc, a biology pre-med major who has known Delayhia for more than ten years, said she thinks Divined by Dae is a very professional and unique business that allows Stipe to make great personalized items.
"Delayhia is very committed to everything she does. Once she sets her mind to something, she makes sure she gets it done," LeBlanc said. "This goes along with her business because she is very diligent with her work and makes sure to stick to her due dates and get a spectacular product out for her customers."
Leblanc said she loves the products Stipe makes because they are unique and everyone wants to personalize their items, but never knows who they can go to.