Warhawk juggles college, 2 businesses
It's Christmas night. Wrapping paper is covering the floor. Everyone is full from dinner. And it's time to talk about everyone's goals and ambitions for next year.
Everyone goes around and expresses their need for alone time, exercise or self-care. Next is Morgan King's turn.
"I want to start another business." Everyone is shocked by what King said. Immediately, she is discouraged by her mother who thinks she needs to focus on school and not spread herself thinner.
However, a couple months later, Morgan started her second business, Moaesthetics, without telling her mother.
King is the definition of a go-getter.
At the age of 22, King owns and operates two businesses on her own while going to school for radiologis technology.
King's first business, MorgTBraidsMe, is a braiding business that started in 2017 after years of experience and preparation.
In 2014, King had to find someone new to do her hair when her previous hair stylist was forced to quit after developing carpal tunnel syndrome.
Instead of struggling to find someone new to do her hair, King decided to do it herself to see how it would go.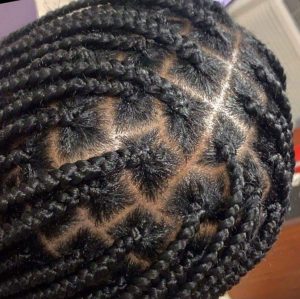 She got better at doing her hair, so people would ask questions like "Where did you get your hair done?" and "Who did your hair?"
As people became more interested in her work, King began to develop a clientele.
However, King graduated high school and went to UL, so she lost a majority of her clientele by the time she transferred to ULM.
This didn't stop her. King continued to put herself out there.
One day in class, she heard someone asking if anyone knew someone that did hair. King spoke up and said she does.
They loved her work, so they began telling other people.
King said, "I gained my clientele [at ULM] by word of mouth after that client."
As word spread of her work, King started an Instagram page to keep clients up to date and in-touch.
One of her previous MorgTBraidsMe clients, Chloe Duhon, said she found out about King on social media.
Duhon went to King for small knotless braids and described the experience as "very pleasant" because King "genuinely cares about the services she provides each person."
Her passion for braiding and her clients is what made her start her second business, Moaesthetics.
Moaesthetics was originally meant to be a branch off her braiding business that would sell haircare products.
After looking into products, King decided that she wanted it to be more. She wanted to not only sell products she was passionate about but also products that help customers become more confident.
This led King to selling jewelry, lip gloss, hair oil and other accessories catered to helping customers feel like their best self.
Both her lip gloss and hair oil are made and packaged by King.
She does this because it gives her products a unique and personal touch. It also allows her to get customers input into the product through polls and other social media posts.
Ayana Green, a MorgTBraidsMe client and Moaesthetics customer, said she goes to King because "the experience is great" and she sells "all the things you need."
Currently, Moaesthetics is going through a relaunch, but King explained that it will be back soon. King said customers can look forward to new items such as clothes and sunglasses.
With the stress of a relaunch, school and her braiding business, King is still striving to keep the original goal of her two businesses, which is to help clients and customers feel confident.