Youth, experience collide in new staff
A team is only as good as the sum of its parts. While ULM had a monumental signing in head coach Terry Bowden, he knew he would only be as good as the team around him. With this in mind, his search started for his coordinators.
For offense, he sought out Rich Rodriguez. Rodriguez brings with him over 160 wins and 21 years of experience as a Division I head coach.
On defense, Bowden used his Clemson connections to hire Zac Alley. Alley most recently served as the linebackers coach at Boise State after attending Clemson as a graduate assistant. Now, at 26, he is the youngest coordinator in the NCAA Football Bowl Subdivision.
"I'm going to surround myself with people who know how to win and understand what it takes to win: the amount of commitment and the amount of effort," Bowden said. "I'm assembling the right staff to coach championship football here at ULM."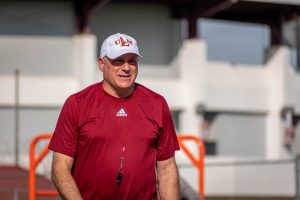 The two coordinators have already shown glimpses of their potential with a tightly-contested spring game. Both the offense and defense found success and made big plays. With summer training ahead, the team will improve from there.
"Zac is a rising star in the business," Rodriguez said. "He has the right mindset to be flexible enough to fit what our guys can do."
Alley, while he lacks experience, makes up for it with his potential. He brings energy to every practice that players say is contagious. His work with the defensive unit at Boise State helped them finish in the top-25 in two seasons. During his time as a graduate assistant at Clemson, the Tigers won two national titles.
"We both have the same mentality" Alley said. "We both coach aggressive with an attacking mindset."
Rodriguez, at 57, has the experience needed to take on the challenge of a rebuild. He has been the head coach for multiple big-name programs, including Michigan, Arizona and West Virginia. In seven years with the Mountaineers, he won four Big East titles.
He was also named Big East Coach of the Year in 2003 and 2005 while with West Virginia, and was named Pac-12 Coach of the Year in 2014 while with Arizona.
Rodriguez is no stranger to the Bowden family. He worked at football camps with Terry's legendary father Bobby Bowden. He was the offensive coordiator for Terry's brother Tommy Bowden at Tulane and Clemson.
The hires come at a pivotal time for the Warhawks, as the program is currently going through a massive rebuild following an 0-10 season.
Alley has a plethora of defensive players to work with, both veteran and rookies. Rodriguez has to adjust to two stars entering the draft and finding a starting quarterback. His son Rhett Rodriguez is a potential stater at QB.
With the spring game now behind them, the coaches still have work to do. Summer workouts will help the coaches continue to shape the team's identity moving forward to a new era of football at ULM.