NY Gov. Cuomo resigns amid allegations
Gov. Andrew Cuomo of New York announced his resignation after nearly a dozen sexual harassment allegations.
This comes in response to a 165-page report from the New York State Attorney General's office that consisted of over 200 interviews and thousands of texts, photos and documents.
The report proves Cuomo sexually harassed 11 women. Nine of whom are current or former state employees, according to NPR.
Despite there being over a hundred pages of evidence against Cuomo, he denied intentionally mistreating women and blamed it on "generational and cultural differences."
However, he chose to resign instead of going through the impeachment process in order to "avoid causing more political turmoil in New York."
Many people are skeptical of his decision to resign for numerous reasons.
The first being the fact that he has yet to make a formal resignation letter.
He has had almost two weeks and there is still no letter with his signature on the bottom admitting that he will leave office.
The second problem is that without a formal impeachment he could run for office again in the future.
Jennifer Dumas, an assistant professor of political science, explained that people were pressing for impeachment because it would limit Cuomo's ability to serve a fourth term.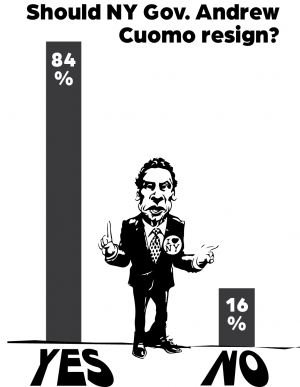 Cuomo was going to run for a fourth term as governor of New York in 2022, which has only been achieved one other time in New York.
"The stars were really aligned for him up until a year ago" Dumas said. "The idea was that he might be able to achieve that fourth term that his father was not able to achieve."
Another problem with his resignation is the amount of support he has.
Cuomo has been idolized as a politician for many years, especially during COVID.
Cuomo was seen as the COVID hero because of the way he responded to the pandemic compared to the rest of the country.
However, in January, he faced a lot of controversy when he was accused of deliberately obscuring nursing home deaths caused by COVID.
Despite this controversy, he was still loved and idolized by many.
While many people condemn idolizing politicians, Ethan Estis, president of College Republicans, feels Cuomo's situation should not be a representation of everyone in politics.
"We live in a country where we can support those with who we align our beliefs and morals," Estis said. "However, the governor found himself in between a rock and a hard spot, and he must face the consequences."
Although Cuomo still has many loyal supporters many people in his own party have "spearheaded his impeachment," according to Dumas.
Senate Majority Leader Chuck Schumer and Senator Kirsten Gillibrand said Cuomo should resign because his actions were "profoundly disturbing, inappropriate and completely unacceptable."
Estis agrees, and feels the best thing Cuomo can do is to step down and remain compliant.
"I have no respect for anyone that commits sexual harassment," Estis said. "It's time for him to own up to the mistake, step down, and be compliant with an investigation, should there be one."