Bayouval unites Warhawks in festival of music
Smooth jazz and delighted chatter echoed throughout Bayou Pointe's lobby while the aroma of red wine wafted into the hallways.
As each guest entered the elegant venue, they were welcomed with the sight of painted canvases, sculptures and other works of art in the lobby along with an abundance of food and drinks.
Toward the front and center, a well-lit stage awaited each performer scheduled to entertain the festival's many eager attendants. As the room began to fill up with guests, its energy grew.
Several couples took to the floor and began to dance.
Last Saturday was ULM's first Bayouval music festival. The money raised from ticket sales will go toward funding scholarships for visual and performing arts students.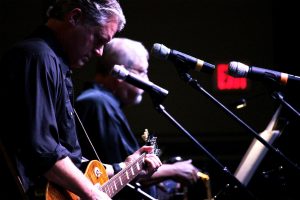 Derle Long, the director of VAPA, said he believes embracing music is an essential part of being human, especially for college students.
"We work so hard and persist because we want to perform," Long said.
Long also gave his thoughts on the pandemic's detrimental effects on music and performers.
"Despite the damage many musicians dealt with during the pandemic, musicians and performers must persevere," Long said.
Along with many others, Long said he hoped to see Bayouval become more widespread in its future.
"We would love to have Bayouval across campus and even the Monroe community," Long said.
Gabby Ballew, a senior communication major and member of ULM Concert Choir, also said she hopes to see Bayouval expand.
"I believe it is very important to support musicians especially during these trying times of the pandemic," Ballew said.
The festival featured talented bands from the community like Code Blue & the Flatliners, Lisa Spann, Hallie Yarbrough, Leah Reitzell, Joe Holyfield and Joe Jacobs.
The Sound of Today, concert choir and jazz ensemble also performed.
Hallie Yarbrough, a ULM alumna and Louisiana State Fiddle Grand Champion, said she's proud of VAPA and Bayouval.
"Performing at the Bayouval Festival means I can give back to ULM for all the opportunities and experiences I was able to get," Yarbrough said.