Warhawk Field undergoes upgrades | Sports Briefs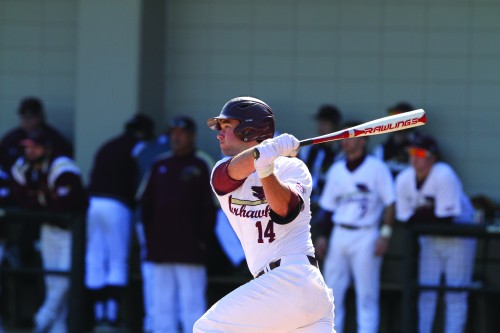 Warhawks baseball will see some changes this season. The team will replace their natural field with a FieldTurf playing surface ULM athletic director Scott McDonald announced on Oct. 1. The $1.4 million renovation project also includes relocation of the bullpens for a better view for spectators as well as a new field-level area located behind home plate.
The shift from a natural grass surface to artificial turf marks the end of an era for Warhawk Field which has used natural grass since opening in 1983.
Over the past few seasons, several games have been postponed or delayed due to poor field conditions following rain.
"This is going to help with recruiting, to be able to show the facility upgrades there," baseball head coach Michael Federico said.
Artificial playing surfaces have become more common on the high school level and there is hope the change will appeal to future recruiting classes.
According to McDonald, grassroots fundraising brought in $400,000 toward renovations with the largest single donation coming from ULM baseball's all-time winningest coach Lou St. Amant.
"I know I gave a big chunk myself," St. Amant said. "But it was worth it, because it's going to be great for the school and great for the baseball program."
Another $300,000 came courtesy of a grant from the Monroe/West Monroe Convention and Visitors Bureau.
Artificial turf could save the university money in the long run with less maintenance required to manage the field.
Rhett Rodriguez out with injury
ULM quarterback Rhett Rodriguez will miss time while he recovers from a lung injury sustained against Troy in the Warhawks' conference opener on Sept. 25. The junior QB and son of offensive coordinator Rich Rodriguez is believed to have been injured on ULM's opening drive.
Rodriguez was temporarily sidelined following his injury but returned to finish the game in ULM's 29-16 win. Rodriguez's injury was noticed post-game by team trainers and he was taken to St. Francis Medical Center where a scan of his lung revealed his lung was punctured.
Rich Rodriguez spoke with the News Star to give an update on his son.
"The doctor said they've seen football injuries before, but this is similar to someone being in a car accident without a seat belt," Rich Rodriguez said. "That's how hard the impact was. And yet, it wasn't a totally collapsed lung. It was just a puncture somewhere, so it was hard to detect."
Medical staff placed Rodriguez on a ventilator Saturday night. He was taken off the ventilator Monday afternoon before being released the following day.
Rodriguez was given a two week probation from any form of exercise. A follow-up scan on Oct. 1 revealed his lungs were healing properly. Following these two weeks, it will be a day-by-day basis to monitor his recovery.
Freshman Chandler Rogers has been named the starting QB in his absence.
Two teams earn academic honors
Warhawks softball and soccer earned recognition for their academic performance.
Fifteen ULM softball players and the ULM softball team earned academic honors for the 2020-21 academic year which was announced by the National Fastpitch Coaches Association.
The Warhawks put 15 student-athletes on the 2020-21 Easton/NFCA All-America Scholar-Athlete list while the team earned a spot on the 2020-21 Easton/NFCA Team GPA list for posting a team grade-point average of 3.0 or higher.
ULM softball ranked 14th in NCAA Division I and second in the Sun Belt Conference with a 3.697 team GPA.
The ULM soccer team was recently recognized with the United Soccer Coaches Team Academic Award for the 2020-21 academic year.
College Team Academic Award recipients are active members of the United Soccer Coaches College Services Program with a composite GPA of 3.0 or better on a 4.0 scale for all players on the roster for the 2020-21 academic year.
This is the fifth consecutive season ULM has received the United Soccer Coaches Team Academic Award. ULM had a 3.48 team GPA for the 2020-21 academic year, which included intercollegiate competition in both the fall and spring semesters while working through the COVID pandemic.
It is the 11th time ULM soccer has earned the Team Academic Award.