Warhawks' bowl dreams put to rest in Death Valley
BATON ROUGE, La. – The Warhawks entered Tiger Stadium to face off against the LSU Tigers with the potential of a bowl appearance on the line. The Warhawks were calling Baton Rouge for the chance to upset the Tigers, but LSU sent that call straight to voicemail.
ULM failed on fourth down twice within the LSU 5-yard line. If the Warhawks were able to turn these mishaps into scores, this would have been a different ball game than the 27-14 final score.
Running back Malik Jackson caught a pass on fourth-and-1 but fell down short of the end zone which gave LSU the ball. Early in the fourth quarter, the Warhawks were faced with a fouth-and-2. ULM dialed up a trick play that had wide receiver Jared Sparks throw a pass to quarterback Rhett Rodriguez, but the pass missed its mark and fell incomplete.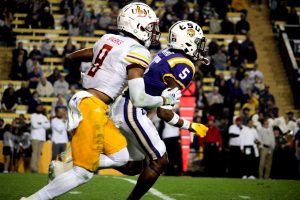 A loss is a loss, but ULM stayed within two scores of the Tigers for much of the contest.
"I do not believe in moral victories," head coach Terry Bowden said, "But I do believe in games where your team gains respect."
Just as ULM was eager to remain in the contest, LSU was eager to put the game away early. LSU head coach Ed Orgeron called for a fake punt in the second half, but cornerback Josh Newton intercepted the pass and returned the ball 22 yards. Wide receiver Boogie Knight hauled in a 28-yard touchdown pass from Rodriguez two plays later to give ULM its first score of the night.
"Boogie Knight is a fearless football player," Bowden said. "He is the most extraordinary worker that I have been around as a football coach."
ULM's only other score came with less than four minutes left in the contest when quarterback Chandler Rogers found tight end Zach Rasmussen for a 27-yard touchdown pass.
The playmakers for LSU wound up being the difference-makers. Although LSU is experiencing its worst season in 25 years, the Tigers still had a more talented roster.
The Tigers were held to 92 yards rushing, but they made up for it with the aerial attack. LSU surpassed ULM's passing offense with 319 yards passing. The Tigers had a 67-yard and a 42-yard touchdown pass.
ULM's adjusted their defense at halftime. The Tigers scored just 10 points in the second half, with a 50-yard field goal coming with less than a minute left in the fourth quarter