Warhawks seek to shock the Sun Belt in 2022
In less than a month, college baseball returns. The Warhawks have the chance to stand among the best sluggers in the Sun Belt Conference.
The 2021 spring campaign was one filled with ups and downs. ULM finished with a 26-26 record. While the Warhawks were able to secure victories against highly ranked competitors such as Texas Christian and Ole Miss, they failed to take care of business against teams on their own level. The Warhawks finished with a 11-13 record in the SBC.
ULM will look to continue their hitting success into the 2022 campaign, which will contribute into them becoming a threat to whomever plays them.
Hitting was a highpoint for the team and several starters return for the Warhawks, including leaders such as Grant Schulz, who led the team batting .333 with a .931 OPS, hitting four home runs with 43 hits. Mason Holt also returns to ULM. Holt led the team with five home runs in 2021.
However, the Warhawks often found themselves struggling on the defensive side of the ball.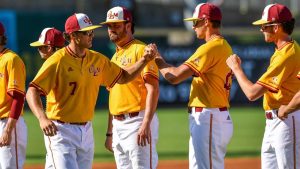 Last season, the Warhawks were on the losing end of several shootouts, including a 7-6 loss to the University of New Orleans, a 9-7 loss to rival Louisiana Tech in Monroe, and a 11-9 loss to UL-Lafayette at home.
Returning for the Warhawks on the pitching staff is Cam Barlow, who was the ace pitcher for the ULM last season. In 2021, Barlow pitched a 5.16 ERA while pitching for 59.1 innings, allowing 63 hits with 10 home runs, while posting 55 strikeouts and allowing 25 walks. Barlow will look to improve and maintain his ace status in 2022.
Also returning for the Warhawks is Carson Orton, who was the main closer. Orton posted a 3.37 ERA and was responsible for two losses with nine saves.
The schedule for the Warhawks comes with its challenges. ULM has a home-and-away series versus Louisiana Tech. ULM also plays three SEC teams, with rematches versus LSU and Ole Miss, and a home series versus Missouri.
ULM's in-state competition includes Northwestern State, New Orleans, Nicholls, UL-Lafayette, McNeese State, LSU and Louisiana Tech.
ULM opens the season with seven matches in February. Six of these will be played on the newly renovated Warhawk Field.
With the continuing of offensive production, and with improvements from the defensive side of the ball, tWarhawks could surprise many people with the chance to put the SBC on notice in 2022.