Easy treats to bake for Valentine's Day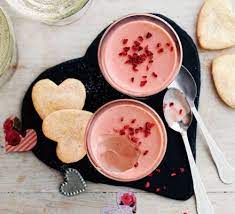 Champagne and Raspberry Possets
This is as easy as it gets. Blend a cup of frozen raspberries and 3/4 tablespoon of champagne until it becomes a smooth mixture. Then, sieve it to discard the seeds. After that, heat four tablespoons of golden caster sugar. Boil it while stirring for a couple of minutes, then add the raspberry and champagne puree while continuing to stir. Add two teaspoons of dried raspberry pieces. Leave it to set before you serve. This delicate, sweet flavor will make you feel mesmerized this Valentine's Day.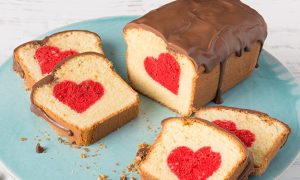 Hidden Heart Cake
First, heat your oven to 320 degrees. Grease a loaf tin and line it with baking parchment. Now it's time to make the batter for your first cake. Mix a stick and a half of butter and 7/8 cup of sugar until it becomes light and fluffy. Then, beat three eggs and pour them in slowly. Sift together 5/8 cup of flour, half a teaspoon of baking powder and three tablespoons of cocoa. Fold the mixed ingredients into the butter mixture with 1/3 cup of ground almonds. Combine half a cup of milk and half a teaspoon of red food coloring to the mixture until it is evenly colored. Pour the batter into the loaf tin and bake it for an hour and 10 minutes.
After cooling for 10 minutes, cut the cake in slices and stamp out hearts using a shaped cutter. Then, make a second cake using the same recipe as the first, but without the cocoa or food coloring. When the second batter is complete, pour the mixture into a prepared loaf and push the heart-shaped cake from before into the new batter. Bake the combined cakes for the same amount of time as the first cake. After the cooling process is over, use icing and sprinkles to decorate the cake. The heart shape in the middle of the cake will surely surprise your valentine.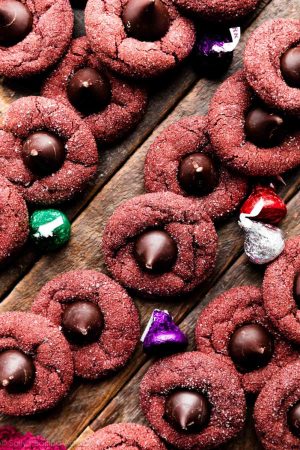 Red Velvet Kiss Cookies
Any kiss is perfect for Valentine's Day, even if it is chocolate. For these cookies, use a hand mixer to beat together half a cup of unsalted butter, 2/3 cup of brown sugar and 1/4 cup of granulated sugar until the mixture is creamy. Then, add a large egg and two teaspoons of vanilla extract together. Mix the dry and wet ingredients on high until combined. After that, add in one teaspoon of milk and half a teaspoon of red food coloring. Mix everything until slightly sticky. Preheat your oven to 350 degrees and line your cookie sheet with parchment paper. Scoop up cookie dough into a ball, about one teaspoon in size, and place it on the cookie sheet. Repeat this step until the dough is gone. Bake for five to seven minutes until edges are brown. Remove the cookies from the oven, press a Hershey's kiss into the center of each one and transfer cookies to the freezer. Leave them in the freezer for a few minutes, then remove and serve. You can try any color you like and other chocolate types as well.