Warhawks prevail in Natural State nail-biters
After last week, the Warhawks have two hard-fought victories to add to the tales from the season.
ULM emerged victorious against the Arkansas State Red Wolves and the Little Rock Trojans with a combined scoring margin of four points.
With under 17 seconds left, Nika Metskhvarishvili hit a 3-point shot to take the lead and secure a ULM win 60-59 over Arkansas State.
Then, Andre Jones dropped a career-high 30 points in his hometown of Little Rock to guide ULM to a 75-72 overtime victory.
The wins snapped a four-game losing skid and set ULM up with momentum leading into their matches in Monroe against UT Arlington and Texas State.
The first half against the Red Wolves was a test of strength from both teams. ULM had a 17-10 lead with 11:50 left but the Red Wolves slowly chipped away at the lead.
Arkansas State eventually tied the game at 26-26 with 4:47 left. One Arkansas State 3-point shot later, and the Red Wolves would hold a 29-26 lead at halftime.
This game featured another end of the half-scoring drought for the Warhawks, which was a trend leading into last Thursday night.
The second half started with an Arkansas State scoring run of 12-4. The Red Wolves would take a 48-34 lead. But the Warhawks came surging back and scored 11 unanswered points to bring the game within three.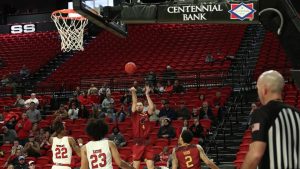 With 5:16 left to play, the game was tied at 52. With under a minute left, Arkansas State led 59-57 before Metskhvarishvili hit a game-altering trey from the left corner.
Leaders for ULM were Jones with 21 points, six rebounds and three steals and Koreem Ozier with 14 points, nine rebounds and three assists.
"Andre Jones played his best game of the year," head coach Keith Richard said. "It wasn't just that he scored 21 points, but he played his best defensive game as well."
Against the Trojans, not much was different. A closely contested first half cumulated in a one-score lead for the Warhawks at 31-30.
The second half saw much of the same result, with both teams tied in a headlock. With 6:23 left, the score was tied at 56.
With a 64-62 lead with seven seconds to go, the Trojans fouled and gave Andre Jones two free throws.
He made both and sent the game into overtime with the score locked at 64-64.
In overtime, after a back and forth for four minutes, the game would see a 72-72 tie with 1:20 left.
With a combination of fouls and perfect free throw shooting, the Warhawks edged out a 75-72 overtime win in Little Rock.