Fundraiser helps raise money for newborn with birth defect
About 20 weeks into Emily McGuyre's pregnancy, she discovered her unborn son, Matthew, had a rare birth defect called Congenital Diaphragmatic Hernia.
CDH is a birth defect in which a hole in the diaphragm allows other organs like the intestines and stomach to enter the chest, keeping the lungs from developing normally.
Matthew was diagnosed with CDH in September 2021.
"Literally from the first day you find out, and they tell you your baby has a 50% chance of living, your entire life changes," McGuyre said. "Everything you thought you knew goes out the window."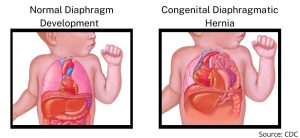 McGuyre said she and her husband's life flipped upside down. Suddenly, they had appointments every day and constantly traveled to different hospitals for consultations.
In early January, McGuyre and her husband, Michael, packed up their life in West Monroe, moved six hours away to Houston and left their two-year-old daughter behind to give Matthew the best chance of living by getting treatment at Texas Children's Hospital.
Matthew was born nearly three weeks ago on Jan. 26. According to McGuyre, he's doing much better than they expected.
"Seeing him every day getting bigger and stronger gives us so much hope for the future," McGuyre said. "We have to keep our sights focused on the long-term goal—getting him home happy and healthy and having our family reunited in our own home."
But being in Houston put McGuyre and her husband out of work. They needed help with travel expenses and treatment costs.
Last week, they teamed up with Chicken Salad Chick to host a fundraiser to help with their expenses.
McGuyre's sister, Gabby Ballew, is a senior communication major at ULM. She helped with the fundraiser for her nephew. In the one-day fundraiser, nearly $1,000 was raised.
Ballew said she and her family are thankful for the help they've received from friends, coworkers and the community.
"I am thankful for the unending support of my professors for helping me still succeed even with my nephew's health," Ballew said.
Sydney Russo, also a senior communication major, donated to support her classmate and the McGuyres.
She said a situation like this can happen to anyone at any time, and that's why it's important to support others.
"If I was in that position with my son or my nephews, I would hope people would show up for my family," Russo said.