Black History event highlights student talents, awards faculty
"Sing a song full of the faith that the dark past has taught us. Sing a song full of the hope that the present has brought us," echoed through the room as everyone sang in unison at this year's Black History Month event.
The Cultural Diversity Council and Office of International and Multicultural Affairs presented the Black History Month program to honor Black champions at ULM, highlight the talent of students and youth in Monroe and educate attendees on the importance of Black history.
This year's keynote speaker was Senator Katrina Jackson.
Jackson's speech was about the importance of mental and physical health, to embrace this year's Black History Month theme of Black health and wellness.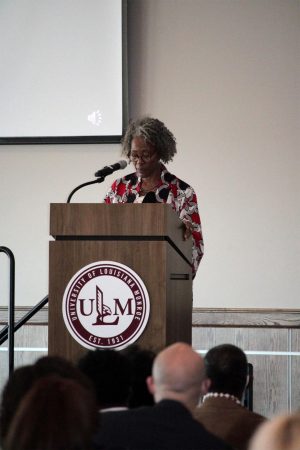 "Black history is American history, and so what we are celebrating today, we celebrate every month," Jackson said. "But it's not enough that we celebrate history, we have to celebrate ourselves now. Celebrating yourself means taking care of yourself."
Kiauna Rollins, a sophomore marketing major, shared her poetry with the audience. Rollins' poem, 'Collage,' addressed the mental and physical struggles that come with her brown skin.
"I deserve to feel free. We deserve to have love, to have peace, to have pride in ourselves and our skin," Rollins said. "The hurt of taking out organs to a place to help others among their race, but a black market doesn't leave us much space."
Other students, faculty and community members' talents and hard work were honored at the ceremony.
Preston Anderson, a junior music major, sang at the program and the Dazzle Dance Company danced.
Sarah McCoy Abakwue, the first Black student at ULM, received the first annual Diversity, Equity and Inclusion Spotlight award for her historic strides as a pioneer and lasting impact on ULM and the community.
A new award was created and named after Pamela Saulsberry, the executive director of diversity, equity and inclusion—The Dr. Pamela H. Saulsberry Trailblazer award.
Gina White, the director of International Student Programs and Services, established the award with the support of President Ronald Berry and Vice President Valerie Fields without informing Saulsberry.
"[The award] will be presented annually to an individual who is an advocate for the University of Louisiana Monroe as well as the community, a pioneer in their field that has given back to the community and creates an inclusive environment," White said.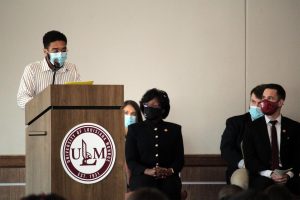 The first-ever Dr. Pamela H. Saulsberry Trailblazer award went to Mystee Burrell, the co-associate director of TRIO programs, because of her unparalleled dedication to making ULM more diverse and inclusive.
Berry said that with the help of trailblazers like Saulsberry, White, Fields, Burrell, Abakwue and many others, ULM has made major advances, but there are many steps to go.
"We do have miles to go before we sleep, but it's going to be an exciting trip," Berry said. "Let's rejoice in what has been done but more importantly, let's look forward to what is being done and what will be done to bring true opportunity to all."