'To Kill A Mockingbird' exceeds expectations
Last weekend, VAPA brought 'To Kill A Mockingbird' to the stage of Spyker Theatre.
'To Kill a Mockingbird' is based on Harper Lee's Pulitzer Prize-winning novel, which is inspired by Lee's childhood and growing up in Alabama.
'To Kill A Mockingbird' tells the story of Scout, a young girl living in a small town, and the heartache caused by an unlawful trial. Scout's father, Atticus Finch, is a lawyer who has decided to defend Tom Robinson, a Black man.
Set in the early 1930s, white folks defending African Americans was not common. Many in the town frowned upon Atticus and his family because of this.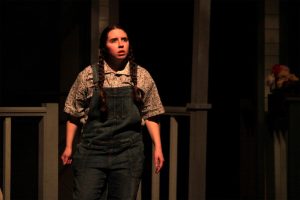 Talented acting students at ULM and four students from the Strauss Academy for the Arts were chosen to act in the play.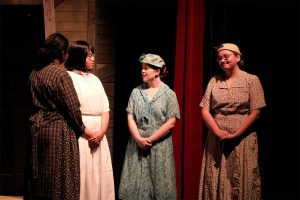 According to James Wright, a sophomore vocal performance major who played Tom Robinson, the show went well.
"Everyone was extremely into their characters […] and they were in touch with the emotions of the character they were portraying."
Wright gave a heart-wrenching performance as Tom Robinson on trial. You could see the tears on his face as he told the judge why he was innocent of the crime he was being convicted of.
"Participating in the play allowed me to depict a really meaningful individual, and being able to portray Tom Robinson, who was a symbol, was incredible," Wright said.
The actors brought this important story to life. The cast seemed to be made for the roles they were playing.
Anubhav Regmi, a sophomore computer science major, said that the performance exceeded his expectations.
"The cast members did a fantastic job with their roles and worked well together," Anubhav stated. "I'm looking forward to seeing more plays like this from VAPA in the coming semesters."
'To Kill A Mockingbird' is by far the best play I've seen VAPA put on. The set, the timing, the dialogue—everything was perfect. The play gave justice to the incredible story of Scout, her father and the trial.
The play's director, Mark Clark, thought the students gave it their all.
"The students practiced for five weeks, beginning the first day of the semester and practicing for two hours every night," Clark said.
Clark hinted that another play might be performed next semester.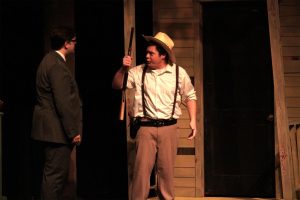 "The response that we have received from tonight's audience was brilliant. We hope to have the same response from our audiences in the coming plays," Clark said. "Tonight's audience was great. Simply tell your friends and relatives if you enjoyed today's show. That's one way you can help us."