Mardi Gras traditions to let the good times roll
King Cake
King cakes are a staple in Louisiana during the Mardi Gras season. Originally created by the French as a gallete de rois, which translates to "kings' cake", the North American version puts a Louisiana twist on the cake. The typical New Orleans style king cake is an oval-shaped cake covered with green, purple and gold icing with cream cheese in the middle. There is also a plastic baby in the cake. The tradition is that whoever finds the baby must bring the cake to Mardi Gras next year.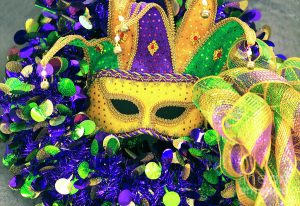 Colors
Like Christmas' iconic red and green, Mardi Gras has three colors that are synonymous with the holiday—green, purple and gold. They each have their own special meaning as well. Green represents faith, purple represents justice and gold represents power. These colors were first displayed in 1872 when the Russian Grand Duke visited New Orleans, and they've been the official colors of the celebration ever since. Many of the beads that are thrown during parades are these three colors and king cakes are decorated with these colors.
Parades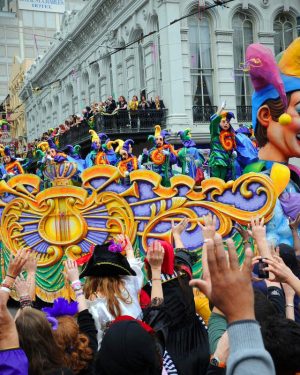 You can't have Mardi Gras without parades. In New Orleans, where Mardi Gras is king, it is not unusual for over 70 parades to roll through the streets. These parades are done to symbolize Fat Tuesday, the last day before Lent occurs in the Catholic faith. The debauchery and disorderliness that occurs during the parades gives everyone a last chance to throw a party before moving into the more somber time before Easter. The parades are done by Krewes that throw beads and build elaborate floats.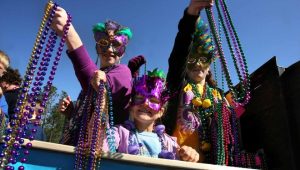 Throwing Beads
During a Mardi Gras parade Krewe members will throw out beads and other items from their float. The throwing of beads is a time-honored tradition that can be traced back to the original Mardi Gras parades in the 1800s. In the past these beads were made of glass. But today these beads are highly elaborate and made of plastic. Many krewes will throw out other items besides beads such as cups, stuffed animals, doubloons (plastic coins) and other peculiar items like coconuts.
Krewes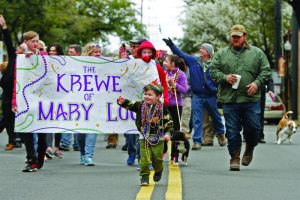 Without Krewes, Mardi Gras is just another day on the calendar. Krewes are like Mardi Gras specific clubs. They hold balls, parades and other events to celebrate Mardi Gras. Some clubs have open membership, but some in New Orleans are more secretive. These Krewes will also pick royalty members for the season. Traditionally, the Mardi Gras Queen will begin the parade and the king will end it. This is why ULM holds Mardi Gras elections to participate with the Krewe of Janus during their parade in Monroe.