Warhawks pick up 2, take 1st loss of season
The Warhawks traveled last weekend to the Golden Eagle Invitational in Hattiesburg, Mississippi.
They played one game Friday against Houston Baptist University and two games Saturday against Jacksonville State.
ULM won the game Friday 11-7 but split the doubleheader Saturday dropping the first game 3-2 and winning the second 5-2.
The game against Houston Baptist on Friday was a back-and-forth matchup.
Houston Baptist took an early 2-0 lead after a Warhawks error in the bottom of the first. ULM responded in the top of the second after sophomore Kelsey Giddens singled to center field to score a run.
Houston Baptist added another run in the bottom of the second to make it 3-1.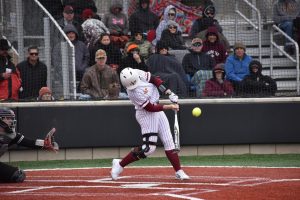 The Warhawks scored three runs in the top of the third after a pair of singles from sophomores Madelyn Fletcher and Andie Edwards and an error allowed the Hawks to go up 4-3.
But Houston Baptist responded in the bottom of the third scoring four to take the lead 7-4.
The fifth inning is when ULM broke it open. After several walks to load the bases, Houston Baptist walked three consecutive Warhawks to tie the score at 7-7.
Back-to-back singles from freshman Gabby Davila and Fletcher plated four more runs allowing the Hawks to take the win 11-7.
Head coach Molly Fichtner said she was impressed with her team and the fight they showed in the fifth inning.
"We have this saying, called 'pass the bat' and you just pass the bat to the next person," Fichtner said. "Whatever you have to do to get on base, we need runners. They did a really good job passing the bat, especially with two outs."
Saturday took a different swing for ULM.
In an extra-inning pitcher's duel, neither side was able to get much going until the seventh inning.
Jacksonville State took the lead early on an RBI walk in the fourth, but nothing could get going offensively.
In the top of the seventh, Fletcher doubled to left center for an RBI and scored on the next play after an error by Jacksonville State.
After the gamecocks tied the game in the bottom of the inning, neither team could mount an assault until Jacksonville State took the victory on a walk off single in the bottom of the 11th inning.
The Warhawks avenged themselves in the second game of the evening. Jacksonville State got on the board first in the fourth to take a 1-0 lead. But the Warhawks scored three runs in the sixth and two in the seventh to take the win 5-2.
ULM will be back in action at Grambling this Tuesday at 2 p.m.