Offense stalls as Warhawks split with Southern Illinois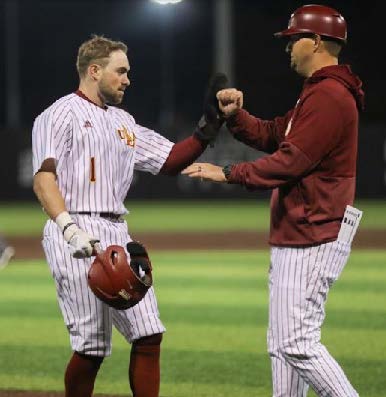 The ULM baseball team kicked off their 2022 season last weekend in a home series against Southern Illinois and hoped to start off strong with a series win.
The series was the first played on the newly renovated Warhawk Field, which now features FieldTurf instead of natural grass and signifies a new era for the stadium.
Former NLU head coach Lou St. Amant was honored before the game for his contributions toward the renovations.
"We have a good product," said current head coach Michael Federico. "We have a nice facility that has gotten better every year since I've been here."
The first game was last Friday night. The Warhawks started Cam Barlow, the ace pitcher for ULM last season.
The game started slow with both teams going scoreless in the first inning and the Warhawks leaving two runners on base.
Barlow started the game with five strikeouts through the first three innings.
He allowed a lead off hit in both the fourth and fifth innings but then shut down the Southern Illinois offense for the rest of the inning.
As dominant as Barlow was, the Warhawk offensive provided him no support as they were equally shut down by SIU pitcher Ben Chapman who pitched seven innings while allowing two hits and producing six strikeouts with no runs allowed.
In the bottom of the eighth inning the Warhawks finally struck as Trace Henry produced an RBI single to right field scoring William Perkins to give the Warhawks a 1-0 lead.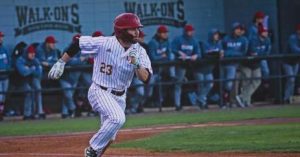 The RBI single was all the Warhawks needed as closing pitcher Lucas Wepf (1-0) completed the shutout with zero hits allowed and two strikeouts.
Barlow's final stat line consisted of seven innings pitched with four hits allowed, 11 strikeouts and zero batters walked.
Trace Henry produced the only run for the Warhawks. His final stat line for the game included 1-4 at the plate with an RBI.
"I can't say enough about Cam. He just keeps shoving it in there with strikes," Federico said. "When you limit your walks and limit the errors, that makes for a quick game."
The second game featured more offensive production for both teams. The game started off close with a 4-2 advantage for Southern Illinois through seven innings.
However, the Salukis would break it open in the eighth with five runs scored off four hits with 10 total at bats in the inning.
Southern Illinois would also score two more runs in the ninth inning to secure the win 11-3.
ULM threw seven wild pitches throughout the game. Starting pitcher Tylor Jans (0-1) would end up with the loss.