Johnson, Page even series with 7 RBI
The Warhawks' hot start faced its biggest challenge yet last weekend when they opened conference play against Georgia Southern at home.
ULM (14-6) split the series against the Eagles (6-12) losing the first game on Friday 6-4 in extra innings and winning the second game on Saturday 10-9 with a walk-off victory in the seventh inning.
Neither team could get anything moving offensively on Friday. The first run of the game was not scored until the bottom of the fourth inning when RBIs from freshman Gabby Davila, senior Korie Kreps and sophomore Lourdes Bacon scored four.
The Eagles responded in the sixth getting one run to make it 4-1 ULM. The Warhawks had a chance to gain more insurance runs in the bottom of the sixth getting three runners on base with no outs, but could not get a run across the plate.
Georgia Southern scored three in the top of the seventh to move the game into extras and despite threats from the Warhawks, the Eagles came out on top after scoring two unanswered runs in the top of the eighth.
Head coach Molly Fichtner said her squad has to find the right balance and get both sides of the ball moving at the same time.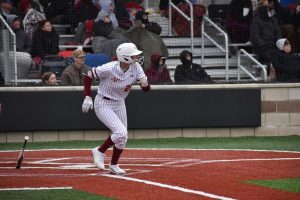 "We have got to figure out the balance of putting all the pieces together at the same time," Fichtner said. "I don't think we played the full game today, and when you do that against a team like that, it's going to catch up to you."
The next day, the script flipped on the Eagles. ULM was ready to play the full game. The Warhawks tied the series with one win each.
"I don't think we've had a comeback quite like that, Fichtner said. "We started out rough, we got behind and there was a big deficit, but we just kept chipping away and passing the bat down.
The Warhawks made sure they finished strong on Saturday scoring seven unanswered runs at the end of the game, which included a walk-off hit from senior Kennedy Page.
Three ULM players had three hits in the game with junior Kennedy Johnson going 3-4 with four RBI, Page going 3-4 with three RBI and Jacelyn Buck going 3-4 at the plate with two RBI.
"I thought our hitters stayed composed," Fichtner said. "When you are down by that many runs, we're not going to go and swing for the fence. We needed base runners and they did a great job."
The Warhawks will be back in action at Alcorn State with a double header on Tuesday.