$100,000 grant helps retain future educators
Education—It levels the playing field for everyone. At least, according to Kevin Smith it does.
Smith, the Monroe market executive for Regions Bank, presented a $100,000 check on behalf of Regions Bank last Wednesday at ULM's Educators Rising Campus Day.
The money will fund scholarships for education students over the next five years.
Two scholarships will be awarded each year and each scholarship will be $10,000.
Smith told the audience of education students, "We're confident that these scholarships will help empower you and other ULM students with the tools you need to become the excellent educators of tomorrow."
To receive a Regions Bank Scholarship, students must be in good standing with the university and have at least a 2.5 GPA. They also must have completed a Regions Bank ULM Educators Rising partner program.
Incoming freshman recipients can renew the scholarship for up to eight semesters, and all other student recipients can renew the scholarship for the remaining semesters needed to complete a four-year degree.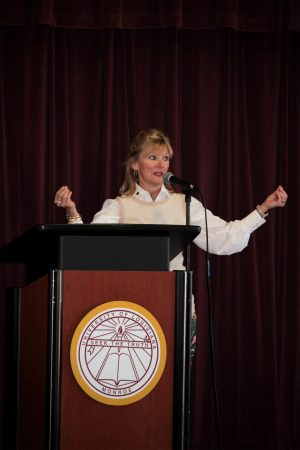 Lisa Miller, the vice president of Enrollment Management & University Relations, said Amy Weems presented the idea for Educators Rising to her several years ago, and she's been a part of it ever since.
"To see all of you here today and see dreams become reality is truly very rewarding and great to be a part of," Miller said. "But with all dreams, there are necessary resources, so it makes it even sweeter when other people believe in the dreams that we have."
Weems, an assistant professor in the School of Education, said that Regions is the perfect partner to take Educators Rising to the next level with this great opportunity.
"Through this partnership, we are hoping to offer the best and the brightest to come to the bayou and learn from the best and the brightest to be the teachers they need to be," Weems said.
President Ronald Berry also spoke at the event. He said that Regions Bank has been a partner with ULM for a long time and has helped the university with a lot of projects.
"They're doing their part to help this region become all that it can be," Berry said.