Bayou immersed in color to celebrate Holi festival
The International Student Association quite literally brightened up Bayou Park on March 17 by hosting this year's Holi event. Attendees covered in colored powder danced and enjoyed themselves at the park as the sun beautifully set.
Holi, the festival of colors, celebrates the triumph of good over evil and marks the end of winter and arrival of spring. This ancient festival is a day to meet your loved ones and friends and play with colors. It's a time to forgive, forget and mend relationships.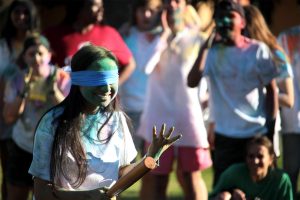 White t-shirts and an array of beautiful colors were provided by the ISA before the celebration began. The music made its way to everyone's feet as they danced along to the rhythmic Hindi songs. Participants sprinted along the park to smear colors across each other. Kids chased one another to strike each other with colors as laughter broke out from different groups.
The event was accompanied with a fun game of "Ghaito Futai," a pot breaking competition where participants blindfold themselves and attempt to break a clay pot.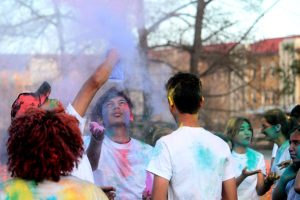 Freshman computer science major Samir Gurung said, "It was most fun to watch the attempts to break the pot."
The fusion of pink and yellow powder rained down while some posed for the camera, and some sneakily threw colors over their friends. Anyone was fair game and everyone had a mixture of color palettes on their face as they waited with bright colored hands for their next attack.
Nabin Pakhrin, a freshman computer science major, said the cultural interaction on campus was heartwarming.
"We are all genuinely enjoying ourselves because there are no prejudices in this celebration," Pakhrin said.
This celebration mostly occurs in India and Nepal but now has spread all over the world as a fun event to celebrate spring's arrival.
According to a famous Hindu myth, the word "Holi" is originates from the demoness Holika and the story of her death by fire. In correlation to the myth, people usually hold a bonfire to represent the victory of good over evil and dance around it on the eve of Holi.
Manish Katuwal, the ISA's public relations officer, said the ISA represents the entire foreign population on campus.
"It is our duty to make [international students] feel at home," Katuwal said.
Even if the color stains wash out, the memories will remain forever.