Series split after shutout win versus Troy
Two runs through two games aren't ideal for any team, but it was enough for ULM to split its match ups with the Troy Trojans last weekend.
After winning their Sun Belt Conference first series against Georgia Southern a week prior, ULM wanted to be sure to get a jump on Troy. But after Saturday night, both teams claimed a win. The Warhawks took game one 1-0 and Troy took game two 9-1.
The victory was ULM's first shutout victory against a conference opponent since 2018.
Game one was an old-fashioned pitcher's duel with ULM freshman Victoria Abrams in one corner and Troy's Leanna Johnson in the other. With only six hits allowed in the entire game, the pitchers played a game of wills and the Warhawks came out on top.
Head coach Molly Fichtner said she was very impressed with Abrams' performance and was excited to see her get a win like that.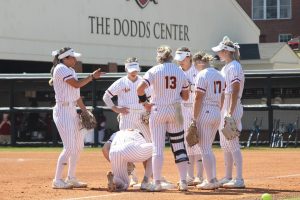 "It's been a minute since we have shut out someone in that fashion," Fichtner said. "For Victoria to give up only three hits, it was incredible to watch her go out there and do that and keep an incredible offense from scoring for seven innings."
The Warhawks did not have the same performance on Saturday. Losing in run-rule fashion in six innings, nothing could go right for ULM.
"We just didn't have anything," Fichtner said. "We didn't have hitting, we didn't have pitching, and we made three errors, two on the same play. We just didn't all-around play to win. It was one of those days where we definitely didn't come out and play ULM softball."
On Friday, ULM jumped out on top in the first inning. Junior Kennedy Johnson doubled down the right field line and was brought in on an error after sophomore Andie Edwards hit a ball into center field.
This was the only run of the entire game as the Warhawks could not string anything else together offensively and Abrams kept the Trojans off the board.
Fichtner was happy with the team's performance and that they were able to pull out a win over such a respected pitcher in the Sun Belt Conference.
"Troy's Leanna Johnson is an exceptional pitcher, so we knew going in that opportunities might be limited. It was awesome to see her and Victoria go at it in a low-scoring pitchers' duel," Fichtner said. "[Johnson] is one of the best pitchers in the conference if not the best that we're going to face, so it was awesome to get a win like that."
But on Saturday the long ball was the killer for the Hawks as the Trojans hit four in the game to score five of their nine runs.
ULM's lone run came in the top of the second inning after sophomore Madelyn Fletcher doubled down the left-field line and scored on freshman Jacelyn Buck's two-out single to left field.
ULM hosts five home games this week. They host Appalachian State for three games this weekend after two non-conference games against Grambling on Tuesday Southeastern Louisiana on Wednesday.