Basketball legend has jersey retired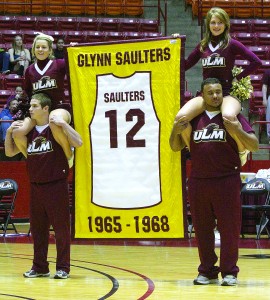 From the gym floor to the rafters above
ULM great Glynn Saulter, became the first Warhawk bas­ketball player to have his jersey retired during halftime of the season finale against the Univer­sity of Louisiana-Lafayette.
Saulter played for ULM from 1965-1968, and in that time he was a two-time All-American and scored 2,134 points, which is second all-time in ULM his­tory.
He ranks among the high­est in mostly every category, he ranks among the top five in points per game with 23.5 and free-throw percentage. Saulter's fame didn't stop at ULM; he went on to help the 1968 U.S. Olympic team win a gold med­al. His jersey was raised into the rafters to a standing and cheer­ing crowd.
There was also a game that night as ULM lost 61-46 to it's rival ULL.
Seniors Lawrence Gilbert and Tommie Sykes were hon­ored before the game. In the game, ULM 7-23 (2-14 SBC) started dry offensively falling behind 7-2 in the first two min­utes, then going into a scoring drought to end the half down 31-20.
To start the second half, the Warhawks rallied to come back within six points. On the next possessions, UL-Lafayette 14-14 (12-5 SBC), stretched the lead to 41-25.
Fred Brown was the only War­hawk to score in double figures with 13 points in 37 minutes of action. Sykes finished with nine points and six rebounds.
The men are heading into the Sun Belt Conference Tourna­ment with the worst overall re­cord.