Murphy, 4 students collect data on squall lines
A line of severe weather caused tornadoes, thunderstorms and severe squall lines across the South last week.
According to the National Weather Service, there were 54 confirmed tornadoes. These tornadoes occurred throughout eight states—Louisiana, Texas, Oklahoma, Alabama, Mississippi, Ohio, South Carolina and Virginia.
While many people were packing up to get away from the dangerous weather, Todd Murphy, an assistant atmospheric science professor, and four atmospheric science students—Emily Allen, Haniston Holloway, Isaiah Montgomery and Jacob Zeringue— were heading toward the storm.
On March 21, Murphy and the students drove to Meridian, Mississippi to spend the night before heading to their site in Demopolis, Alabama the next day.
The team went to Demopolis as part of a two-year field mission which is backed by a $276,000 PERiLS grant.
The grant was awarded to Murphy with the goal of studying tornadoes born from squall lines.
It is a three-year PERiLS grant with which the first two years will be spent collecting data on field missions and one year compiling data and research.
According to Murphy, PERiLS is a National Oceanic and Atmospheric Administration and National Science Foundation project to study the "propagation, evolution and rotation in linear storms."
"A squall is a line of thunderstorms. It's linear, not thunderstorms that just form. Usually, when a cold front passes, there's a squall line," Murphy said. "There are a lot of unanswered questions on the scientific side as to why tornadoes form in squall lines. Some parts might form a tornado, and others do not when everything else looks the same."
ULM's role in the project is to launch weather balloons and operate Doppler wind LiDAR.
Weather balloons can be launched every 45 minutes, but it might take over an hour to get data back.
Doppler wind LiDAR on the other hand can "derive a new wind profile about every five minutes."
Murphy said it is important to have both because the atmosphere can change quickly as squall lines approach.
"Some of my science objectives for the project is examining how quickly the wind shear evolves immediately ahead of a squall line preceding a tornado," Murphy said. "The ultimate end goal of the project though is to improve our understanding of how and why tornadoes form in squall lines and hopefully turn that into knowledge that the National Weather Service can use to issue better tornado warnings."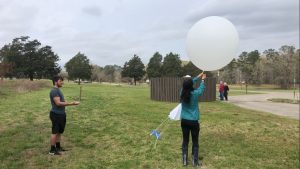 Better tornado warnings help save lives because they allow people more time by more accurately detecting that a tornado has touched down.
Isaiah Montgomery, a junior atmospheric science student, said they were able to launch eight weather balloons on Tuesday while watching other teams' data.
"We were monitoring the other data sent out by other universities and teams participating in PERiLS, and it was very useful to see all of that real-time data and see its impact on approaching storms," Montgomery said. "Since all of the teams are packed into a relatively small domain, our data creates a high-resolution network that shows small, yet very important, details."
Montgomery is one of three permanent students on the team. The other two are Haniston Holloway and Jacob Zeringue.
For each mission, the team consists of four to five students. The other students are chosen from a rotating volunteer pool.
Montgomery said getting the experience to research is important no matter what field the students go into after the mission is completed.
"Field missions are very important to upcoming meteorologists so that we get experience collecting data," Montgomery said. "No matter what path we choose, whether it's graduate school or going into the workforce, research is an incredibly valuable experience and will help us better understand severe weather."