NAACP prepares Ronald McDonald house for move
For more than 10 million families across the world, Ronald McDonald House Charities is their saving grace.
RMHC is a charity that gives sick children access to medical care while helping families be actively involved in their children's care.
According to RMHC's website, there are over 375 Ronald McDonald House programs in 45 countries worldwide.
Ronald McDonald houses give parents a place to stay near a top hospital where they get meals and psychosocial support as their child receives care.
Due to COVID, many houses were forced to shut down—including the one here in Monroe. It had to shut down because the rooms did not have their own bathrooms, but instead they had communal bathrooms. So they were forced to shut down to maintain the wellbeing of staff, families and children.
The house in Monroe has not reopened because they are getting a new location in St. Francis Hospital.
With no one living in the house, it can be hard to keep up with chores and housework.
The NAACP volunteered to help Georgia Street, the executive director of the Monroe Ronald McDonald House, with some of the duties so she wasn't left to do them alone.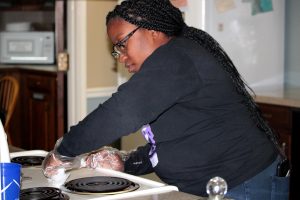 Students went to the house and did chores inside and outside of the house such as wiping down the counters, sweeping, moving sandbags and cutting branches off a tree.
La'Chele Green, the president of the NAACP, said the NAACP wanted to help make the transition to St. Francis easier on the Ronald McDonald House workers and families.
"NAACP volunteered at the Ronald Mcdonald House because we wanted to teach our members about something new— about people, cooperation, compassion and themselves," Green said.
RMHC is very important to people like Street, who has put in endless hours to make sure families feel loved and supported when they're at their lowest times.
Street shared stories of families that lived in the Monroe house with students to show them that their volunteer work does make an impact.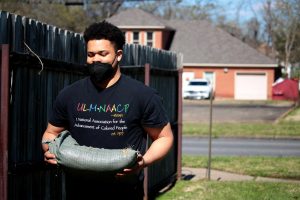 Street told students about three families who stayed at the house during the same time and had children in neonatal care. One of the mothers almost had her baby taken away because he had Fetal Alcohol Syndrome.
"The other mothers decided that she should not lose her baby, that she should be given a chance to get her life together," Street said. "They got everything that the mother could possibly need to take care of her baby, and they gave it to her for Christmas."
Because of their gifts, the mother was able to take her home baby.
Street explained that even though she appreciates the help the NAACP provided, it is families like this that students are helping the most.
Green said she and other members enjoyed hearing Street's stories because it served as a reminder that we should all stick together as a community.
"Life has so much to offer if we remember to look beyond ourselves," Green said. "We have to give back to those who paved a way for us."