Step Show displays tradition, unity
The National Pan-Hellenic Council ended Spring Fever Week with a bang as fraternities, sororities and two community groups stepped into a competition they prepared for all year.
Dancing, stepping and strolling are rooted in the traditions of the NPHC.
Sigma Gamma Rho vice president Kiauna Rollins said, "Stepping is a way of expressing ourselves and all of the energy our founders put into our values and dispersing those into the community creatively."
Steppin' N2 Da 90s was a fantastic show that displayed students' talent and dedication to their chapters.
Members said they spent up to three hours every day trying to get every element perfect for this competition. Each routine could last up to 15 minutes.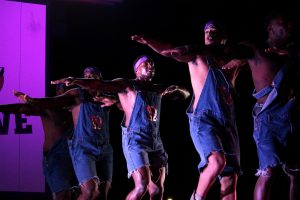 Alexia West, a senior computer information systems major and member of Delta Sigma Theta, said that they spent extra time coming up with steps that were "not only good but difficult."
West believes that collaboration and hard work played a massive part in making the performance unique, but sisterhood put them on top.
Each sorority and fraternity created their spin on the 1990s theme, and classic '90s music made the audience get up and dance with them.
This production was a glimpse into the culture, traditions and collaborations of NPHC life.
Standing in the crowd, alumni and current students strolled across the stage and field during intermissions, showing the strong pride that each member and alumni has for their chapter.
Throughout the competition, people in the audience cheered on their sorority or fraternity with their specific call.
While it was a competition, each chapter went out there to have fun and express themselves.