Students get taste of Nepalese culture at Nepali Night
If asked the name of Nepal's national anthem or the most popular food in Nepal, would you know the answer?
Despite 11% of ULM's student body being Nepalese, according to College Factual, many students lack knowledge about Nepal.
Nepali Night was started by the Nepalese Student Association to help students learn about Nepalese culture while allowing Nepalese students to get a taste of home at ULM.
This year's Nepali Night was filled with food, music, performances and facts about Nepal.
Manish Katuwal, NSA's sophomore representative, said this event helps Nepalese students feel at home even though they are living "half a globe away from our family."
"The whole event, which includes Nepali songs, Nepali fashion and Nepali kitchen style food, brings us overwhelming happiness," Katuwal said. "The events bring our friends closer to us, binding us as brothers and sisters, or a family as a whole."
For Nepalese students, this event is about more than sharing their culture. It's a chance to teach people who have never heard of Nepal about their home country.
One of the hosts of the event, Shreya Adhikari, asked the crowd various trivia questions about Nepal.
One of the questions was about which goddess is worshiped in Nepal.
After Nepalese students shouted the answer, Kumari Devi, Adhikari told students that Nepal is the only country that worships a living goddess.
Sagar Karki, a freshman computer science major, said many people have never even heard of Nepal, so Nepali Night is an opportunity to educate others through music, performances and food.
Karki sang a popular song in Nepal called "Komal Tyo Timro," a song in which the singer is expressing his feelings to his love. Despite this being a very popular song in Nepal, many non-Nepalese students had never heard it, which is why Karki picked it.
Nikki Pant, a freshman pre-nursing student, was another performer at Nepali Night.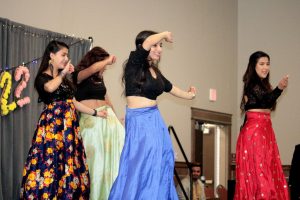 Pant and three other Nepalese students danced to a compilation of Nepali and Bollywood songs.
"The dance was a bit of everything—some cultural music, some [popular] Nepalese dances, Thumkas and all," Pant said.
The food at Nepali Night was another way to express their culture.
They had a mixture of traditional Nepalese dishes cooked by students and Himalayan Cafe, which sponsored the event.
Some of the dishes included goat curry, achhar, matar paneer, pulau and soyabean choyla.
Ayushma Shrestha, a sophomore accounting student, said her favorite part of Nepali Night was the food because it reminded her of home.
"I miss how the food is back home, and today reminded me of how Nepali cuisine is," Shrestha said. "The spices and the taste is how home feels like."
Katuwal said his favorite part of Nepali Night was the process as a whole.
"The planning, preparation and execution brings Nepalese students and the campus together and strengthens our bond," Katuwal said.