VAPA presents 1st musical since pandemic
VAPA's production of "She Loves Me" hit the stage last week, and the clerks at Mr. Maraczek's perfume shop definitely left every customer satisfied.
"She Loves Me" is a light-hearted musical with just the right amount of comedic value, which put a smile on everyone in the audience's face.
The musical tells the story of clerks working in a perfume shop and their different encounters with love.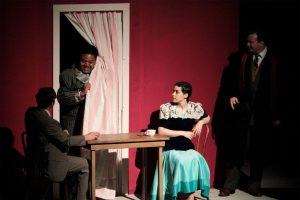 Georg Nowack and Amalia Balash work together as clerks, but they despise each other. Georg has been sending letters to his special friend, who he is in love with but has never met.
But Georg is hit with a shocking truth when he realizes the woman he has been writing to is the coworker he hates.
Georg struggles to navigate how to tell Amalia that he is the friend who's been writing to her. The situation leads to laughs, fights and a lot of singing.
"She Loves Me" is the first musical performance since the start of the pandemic where masks did not have to be worn, which was refreshing and gave a sense of liveliness to the performance.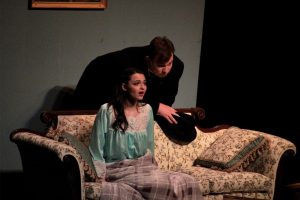 Leslie Hobgood, who starred as Amalia, felt that having a fully unmasked performance was really special.
"Performing normally for the first time since COVID is so rewarding, and being able to share a story with the audience every night is amazing," Hobgood said.
The casting of this musical was phenomenal. From the main clerks to the customers, the performers as a whole did an amazing job.
Stage manager Cherie Mialaret shared how much preparation and practicing went into making this musical happen. Everyone involved worked many hours, with performers having two-hour long practices every day since the beginning of the year.
"It's a huge commitment and takes a lot of dedication, but everyone pulled their weight and the final product looks amazing," Mialaret said. "All their hard work really paid off."
A full orchestra played all the music, and a dance ensemble performed near the end of the first act.
Kayli Bowman, a dancer from the musical, believes that dancing brought a certain level of animation to the show.
"It brought the words to life and helped relay the message of what the actors were saying in a fun and comical way," Bowman said.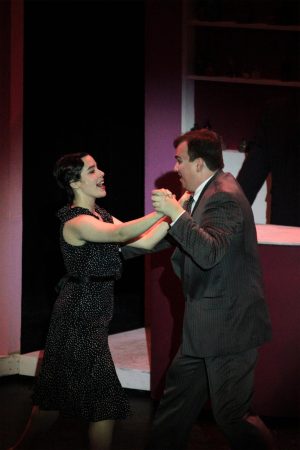 "She Loves Me" showcased the many talents of VAPA students and successfully introduced the audience to the funny side of a 1930s love story.