Scott McDonald resigns as athletic director
The head of the table at the ULM athletics department was vacated last Monday as athletic director Scott McDonald resigned from his position.
His announcement came just before the beginning of fall sports in Monroe.
McDonald said ULM athletics has made improvements during his four-year term as athletic director, including a $6 million investment into renovating athletics facilities. However, moving forward, he says that "it's time to pass the baton to the next leader." After speaking with ULM president Ronald Berry about the direction of athletics, he felt it was time to resign.
"As we visited about that, deciding on how to execute on these pieces, it occurred to me now is the time to move back into the financial services industry," McDonald said.
No interim athletic director has been named yet, and the nationwide search for a new Warhawk athletic director is underway.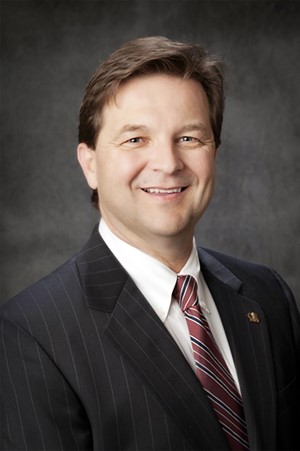 Given his years of experience across different levels of competition, some people feel that head football coach Terry Bowden would be the logical choice. But Bowden was quick to put that idea to rest.
"I'm a ball coach," Bowden said. "at a smaller than Power Five university you don't make it if you don't wear a lot of hats…but I don't know where another one would fit."
Bowden went on to mention that he "will sorely miss" McDonald.
"He's the reason I'm here," Bowden said. "He made initial contact and offered me this job… I've worked with a lot of athletic directors and he is among the finest I've ever worked with."
McDonald started as ULM's interim athletic director in September 2018 before being named full-time athletic director on June 12, 2019.
During his time, some sports have seen improvements. In 2022, ULM softball had its first non-losing season since 2015. In 2021, soccer won two SBC tournament games. Before that season, soccer had not won a tournament game in the program's history.
Other sports have not shared the same level of success. Including his first year as interim athletic director, ULM women's basketball has posted a record of 21-90 over the course of four seasons.
Men's basketball hasn't won more than five conference games in a season since the 2018-19 season. Football had a 9-25 record over the past three seasons which included a 0-10 campaign in 2020 and failed to reach a bowl game.
McDonald will continue to serve as ULM's acting athletic director until Sept. 1.