Fraser sets high expectations for new season
The ULM soccer program heads into the 2022 season with high expectations after a relatively successful season last year.
Last season included some ups and downs for the Warhawks. The highlights included many broken school records. This includes most points, shots and best goals against average. Some of the most notable wins last season were a 3-1 win over South Alabama and two wins in the Sun Belt Conference tournament, which were the first two postseason wins in school history. Overall, the program is trending in the right direction.
"I think last season was a big step forward for this program," fourth year player Madi Garza said. "I think we have a lot further to go and a lot more to prove."
Garza has been with the program since 2018 and has seen three different head coaches in her tenure and has gone through years of losing before 2021.
"That was a whole different set of team and different type of culture," Garza said. "Now that [head coach] Sean [Fraser] has been here for two years, I think the team has really come together."
Garza is the most seasoned player on the team, and her loyalty to the program has made her emerge as a leader for the team. She also has the drive to compete for a starting role and play more of a part.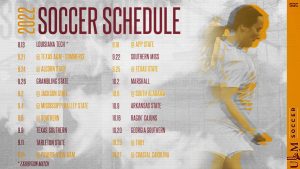 Along with domestic recruits, ULM has also focused on bringing in international players.
One such player is Lucia Lobato, a junior from Galway, Ireland. Lobato played with the Irish National Team and Akron before coming to ULM.
"That experience helped me so much" Lobato said. "Flying to games, playing against big countries, its huge."
Lobato also spoke on the integration of the diversity of the team and playing with girls from different cultures. "It was really smooth actually" Lobato said, "it was fun sharing each other's cultures."
Lobato features high stamina as she is rarely seen subbing out of a game and can play the full 90 minutes. She also has been able to avoid injury throughout her career.
Fraser has been the main culprit of the program's recent turnaround, a role that he has played previously in his coaching career. Fraser expects the team to carry the momentum from last season into 2022.
"My expectation for the season is that we continue to build off of what we've done," Fraser said. "The players are aware that we will be trying to win in every game"
Fraser also aims to improve from last year as he spoke about pitching more shutouts. The team last year posted six shutouts, which ranked fourth in the SBC.
Another topic of discussion was the attitude that the team has. Fraser spoke very highly of his players on this topic. "We've got a very committed, focused, soccer driven team," Fraser said.
The upcoming season features some benchmarks in Alcorn State and Mississippi Valley State. Texas Southern is also a team to watch out for in non-conference play. It also has intriguing match ups with defending Sun Belt champion South Alabama and Arkansas State along with Southern Mississippi who is new to the conference. With last year's success and with the momentum heading into the season, 2022 looks to be a roller coaster of action.