VAPA program hosts Arts on the Bayou for local students
The iconic sound—whether it is a trumpet, drum or even an oboe—rings through many students' ears in high school. Logically, these students don't want the music to fade away when they head to college.
A collection of visual and performing arts professors and their students came together last Wednesday to show prospective high school students that ULM can be the school for them.
According to Derle Long, the director of VAPA, this year's Arts on the Bayou had the best turnout in program history with 151 high schoolers in attendance. And with how the event went, he believes ULM has a great chance to see many of these students enroll in the near future.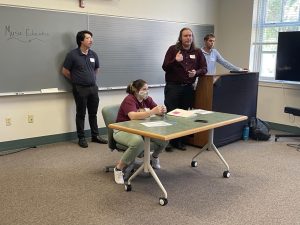 The program put an emphasis on the interaction between college and high school students.
Students broke out into groups and got to see students in their particular focus get to work instead of only hearing from professors for presentation after presentation.
"Current students are our best recruiters," Long said.
ULM students sold the program both through action and word. If a high schooler wanted to talk to music students for questions about classes and performances, then that option was there the entire day.
Students wanting to hear what hard work in the VAPA program sounds like had their wishes granted as well. VAPA students performed in wind ensembles, jazz bands and choir concerts to showcase what can be learned on the bayou.
As senior music education major Jackson Lair stated, those attending Arts on the Bayou received the "full experience" and got much needed information.
"It's good to have this chance to talk with myself and fellow students to get a real idea of what a day in the life of a music major is like," Lair said.
The faculty made their connection with students as well. The day finished with professors preparing them for their all-state music audition. This all ties into the goal of making ULM feel like home when students apply to go to college.
"If they feel like they have a relationship with the faculty members and they talk with students and have the actual experience rather than just have someone tell them what it's like then that will make a huge difference in their comfort and interest level," professor Claire Vangelisti said.