Home opener brings Rally at the Alley
Nothing puts a pep in the step of the new football season like a good old-fashioned pep rally. Endless support showed up to Alley Park for the first Rally at the Alley in Downtown West Monroe.
The community, all sporting their best maroon and gold, shared half an hour of food, music and excitement before the sun began to set on Sept. 8.
With the first ULM home game in sight, students, faculty and football fans alike gathered to rouse up excitement and team spirit for the Warhawks' upcoming match against Nicholls State.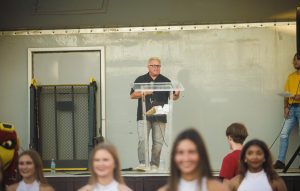 ULM's very own Sound of Today played student and alumni favorites such as "2001 Funk" and "Boolah Boolah," accompanied by ULM cheerleaders.
The West Monroe Rebels showed some serious hometown spirit by getting down with the Hawkline to "Cupid Shuffle" and "Wobble." Ace the Warhawk didn't hesitate to join alongside Mr. and Miss ULM in busting a move.
Despite the warm evening, Kona Ice kept everyone cool. Food was also provided by The Blue Taco truck, which offered a variety of options including quesadillas and nachos.
Adrienne LaFrance-Wells, Main Street Director of Downtown West Monroe, hosted this event in collaboration with Mayor Staci Mitchell and ULM Spirit Groups.
"It's a great way for ULM to celebrate the start of their football season in Downtown West Monroe with the community," LaFrance-Wells said. "I'm happy that downtown could be a part of the celebration."
ULM PREP staffers Victoria Sterling and Michael Crenshaw gave a warm welcome to each of the numerous speakers of Rally at the Alley, including Joey Trappey, a former ULM student-athlete, best known for owning numerous restaurants around town.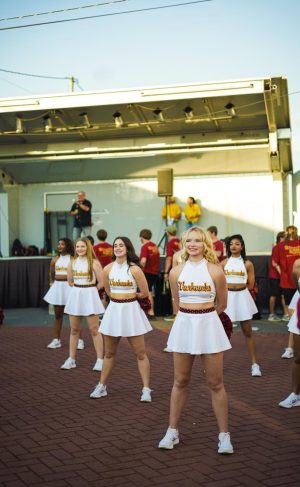 He followed Mitchell in showing support to our team for the upcoming game.
"I think it's really good for the community's involvement," Jessie Rodgers, a ULM alumnus said. "It's nice to have this kind of event and involve both sides of the river."
The crowd became electric for the man himself, coach Terry Bowden, who enjoyed a little Nicholls State trash talk before he urged the crowd to fill up the stadium with the same support and Warhawk pride that they brought to the Alley.
Afterwards, Garrett Kahmann, former West Monroe quarterback and ULM tight end, told the audience how much the community coming together to show support meant to the players.
Though some rally-goers may have felt out-of-place enjoying ULM festivities off-campus, students, alumni and community supporters all agreed that the change in scenery only added to the excitement of the event.
Rachel Meredith of the ULM Hawkline put it best.
"It was a great way to bring the community together," Meredith said. "In the future I hope we can have more events like this to build up student and community morale."